Time is money in the world of business and if you are travelling between Portsmouth & Isle of Wight for work, Hovertravel is the perfect choice offering the fastest crossing to the island – just 10 minutes.
We offer a number of products to suit the business traveller needs, such as:
Discounted travel for regular users ranging from travel cards to seasons. Perfect for named individuals regularly travelling.
Company Tickets for block discounted purchase. Perfect for those company's sending a number of different staff members.
Corporate & Business credit accounts, allowing your travel needs to be invoiced, avoiding individual expenses.
Dedicated 'Hovertravel Business Account Manager' to assist all your travel requirements.
Corporate Away Day's – Hovertravel offers a number of tailored made days out, a perfect way to create a team away day with a difference.
What Our Business Customers Say...
From the Building trade 
"Hovertravel's Company tickets are perfect way to travel. We never know who we will send to the Isle Of Wight and when, as its always subject to the contracts we have. But these pre-paid multi tickets, unnamed and valid for a year are just the ticket for the building trade, plus the account facility works well.''


From the Corporate industry 
"We have a number of our senior management team need to visit the various branches in Portsmouth & Isle Of Wight and the hovercraft means they are only travelling 10 mins of the day each way instead of the hour on the car ferry. Making sure we maximise the staff's time during the day, plus our managers get 'Priority Boarding' – great service''
Isle of Wight Car Hire
Need car hire on the Isle Of Wight? Hovertravel have two Enterprise Car Club cars available to pick up as soon as you land in Ryde! Simply download the app and use code HOVERTRAVEL for free credit! 
We can tailor travel products to suit your company's needs, and If you would like to speak to one of our Business Travel Customer Service team or just have a question as to how Hovertravel can assist you with your business travel, please contact us at business@hovertravel.com or use the form below.
Hovertravel supporting Business between the Isle of Wight & Portsmouth/Southsea.


Working with the Isle Of Wight Chamber of Commerce & Hampshire Chamber of Commerce.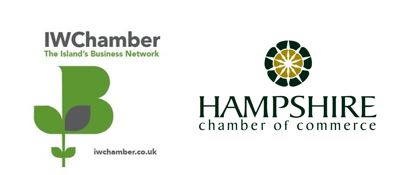 ;