Description

Dates & Prices

Getting Here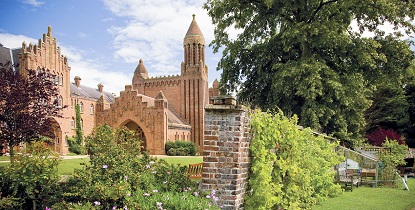 Situated just outside of Ryde, Quarr Abbey is home to a small group of Benedictine monks who strive to dedicate their lives to the glory of God, and whose day is characterised by prayer, work and community life.
You can visit the church and wander around the grounds to experience the tranquil atmosphere, visit the art gallery where local artists display their artwork or browse the bookshop, where you can buy published works by a member of the community of monks along with other Quarr Abbey souvenirs.
Teashop
Located in Quarr Abbey's serene and beautiful surroundings of the walled gardens, you will discover the popular licensed teashop. The teashop also offers a wide range of sandwiches, soup, paninis and daily specials that make the most of Quarr Abbeys own allotment-grown produce. Or for those with a sweet tooth then there are a large selection of scrumptious cakes and cream teas available every day. Perfect to accompany a speciality coffee made using Quarr's own special blend of roasted coffee beans.
Farm Shop
Adjacent to the teashop is the stylish farm shop where you can browse through a variety of local products. There is also the opportunity to buy Quarr Abbey's own brand of jams, chutneys, honey, coffee and pork products. Quarr Abbey are also proud to introduce their very own traditional Abbey Ale, Still and Sparkling Cider and Apple Juice. Another favourite for families visiting are Quarr Abbey's own resident pigs. Bags of pig food (cake) are available to buy in the farm shop for anyone who wants to give them a treat. Also available outside the teashop is their own allotment grown fruit and vegetables that support local charities through the land usage scheme.
Art Gallery
As part of the many interests, browse and enjoy the art gallery where local artists display their art work throughout the year. Whether it is an Arts and Craft workshop or an exhibition of paintings; there is always a creative offer to view and experience at the gallery, making it a popular destination for all visitors to the Abbey.
Monastery Shop
The Monastery shop offers a wide selection, particularly Christian spirituality, monastic and Benedictine books. There is also a great selection of children's books available, along with published works by a member of the community of monks. Also available is an interesting range of Abbey souvenirs and devotional items.
Tours
For everyone interested in the history of Quarr Abbey, tours are available on the first Tuesday of every month, and every Tuesday in July and August at 11.00am. A visit to the Abbey is a must for any trip to the Isle of Wight and is a fantastic day out for families. 
Amenities
Bus Route
Café Onsite
Disabled Access
Dates
Season Running Dates
Opening Times
02 January - 13 April

Summer: 10:00-17:00 Mon-Sat, 11:15-17:00 Sunday

Winter: 10:00-16:00 Mon-Sat, 11:15-16:00

15 April - 23 December

Summer: 10:00-17:00 Mon-Sat, 11:15-17:00 Sunday

Winter: 10:00-16:00 Mon-Sat, 11:15-16:00

Closed Dates
Good Friday and Christmas Eve to New Year's Day
Directions
Bus 9 or 4 or the Island Breezer Open Top Bus