Description

Images

Dates & Prices

Offers

Getting Here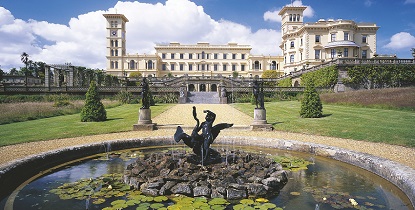 Osborne has been shortlisted for The British Wedding Awards for the Best Coastal Wedding Venue award.
Vote for them here!
Delight in the Victorian splendour of Queen Victoria's family home where this famous monarch lived with her large family and beloved Prince Albert.
Marvel at the magnificence of the Royal Apartments including the sumptuous drawing and dining rooms. Don't miss the acclaimed DurbarRoom and corridor with its Indian décor and portraits. Imagine life below stairs as you walk through the Table Deckers' Rooms.Take an intimate glimpse into Queen Victoria's family life as you tour the nursery and private rooms.
Unwind in the extensive grounds and enjoy the stunning views of the Solent that reminded Prince Albert of the Bay of Naples.
Relax over lunch or afternoon tea in a choice of eating place including our elegant Terrace Restaurant .Look out for the native red squirrels as you wander through the historic grounds, and spot the trees that were planted to commemorate an important visitor anniversary. Delight in the Victorian walled garden with its exotic fruit trees and hothouses. Explore the charming Swiss Cottage with its child-size furnishings built by Prince Albertfor the royal children to learn domestic skills. Explore the garden in which they grew vegetables and sold to Prince Albertat market rate!
Queen Victoria spent many enjoyable hours on the beach with her family and it was here that the royal children learned to swim.
Take a gentle stroll down the picturesque Valley Walk along a tree-lined path to the beach. Enjoy the view from Queen Victoria's alcove where she used to sit and sketch or write letters. See the bathing machine built especially for Queen Victoria and used for the first time at Osborne. 
Please note during winter months, it is only the ground floor house tours and grounds that are available for customers. 
Pre-booking is essential in winter months. To pre-book please call 01983 200022 option 6.
Images supplied by English Heritage
Amenities
Bus Route
Café Onsite
Child Friendly
Disabled Access
Rainy Day
Dates
| | |
| --- | --- |
| Season Running Dates | Opening Times |
| 2nd January - 11th February | 10:00 - 16:00 Weekends Only |
| 12th February - 18th February | 10:00 - 16:00 Every Day |
| 19th February - 29th March | 10:00 - 16:00 Weds, Thurs, Fri, Sat & Sun |
| 1st April - 30th September | 10:00 - 18:00 Every Day |
Prices
Hovertravel Combo Price

Adult
£41.30
Child
£22.20
Purchase our great value discounted all-inclusive travel and attraction ticket!
Available from our Southsea terminal and now online!
If you have an e-ticket, please remember to have the ticket 'stamped' at our Southsea terminal before travelling across for free entrance to Osborne House
Directions
Bus Svc 4 to Osborne House Gates (hourly). Approximate journey time 20 minutes (travel included in package price)
Isle of Wight Family Attractions
Useful Links