Over £10,000 raised for RNLI by Branchline - 14/08/19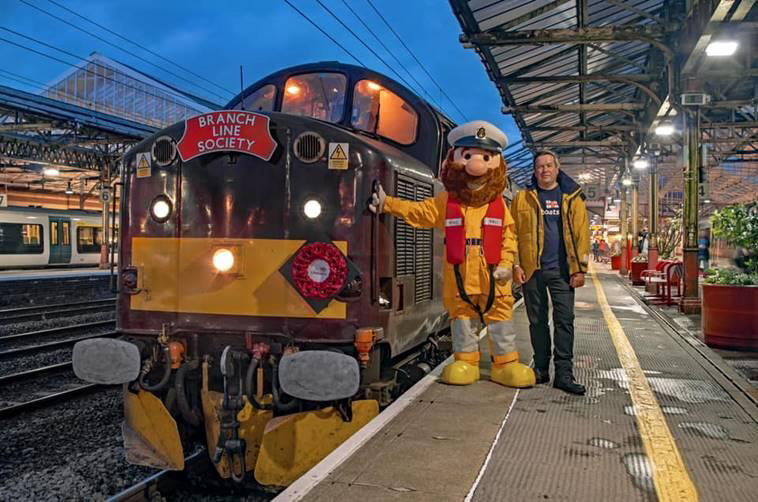 Hovertravel helped Branchline, a voluntary association for railway enthusiasts, raise £10, 346 for the RNLI (Royal National Lifeboat Institution) with a Portsmouth rail tour.
Neil Chapman, MD at Hovertravel, explained: "By working with an established association such as Branchline, we raised a significant sum for a very worthy charity, and we showcased Portsmouth to over 450 enthusiastic tourists. Hovertravel takes its role as an active promoter of local tourism very seriously and we engage with our contacts across the travel and transport sectors to raise the awareness of Portsmouth and the Isle of Wight on a regular basis."
The Portsmouth rail tour started in Crewe at 0530 and wound its way to Portsmouth via Stafford, Nuneaton, Watford and Reading before arriving at 1256. Guests then had four hours to explore the city, with optional excursions including the D-Day Museum and the Hovercraft Museum.
The Branch Line Society is a UK-based voluntary association for railway enthusiasts. It is a nationally spread organisation with a membership of nearly 2,000. It was established in 1955 and is widely recognised as Britain's leading amateur group for the study of railway infrastructure and history of networks.
One million free bikes and counting - 08/08/19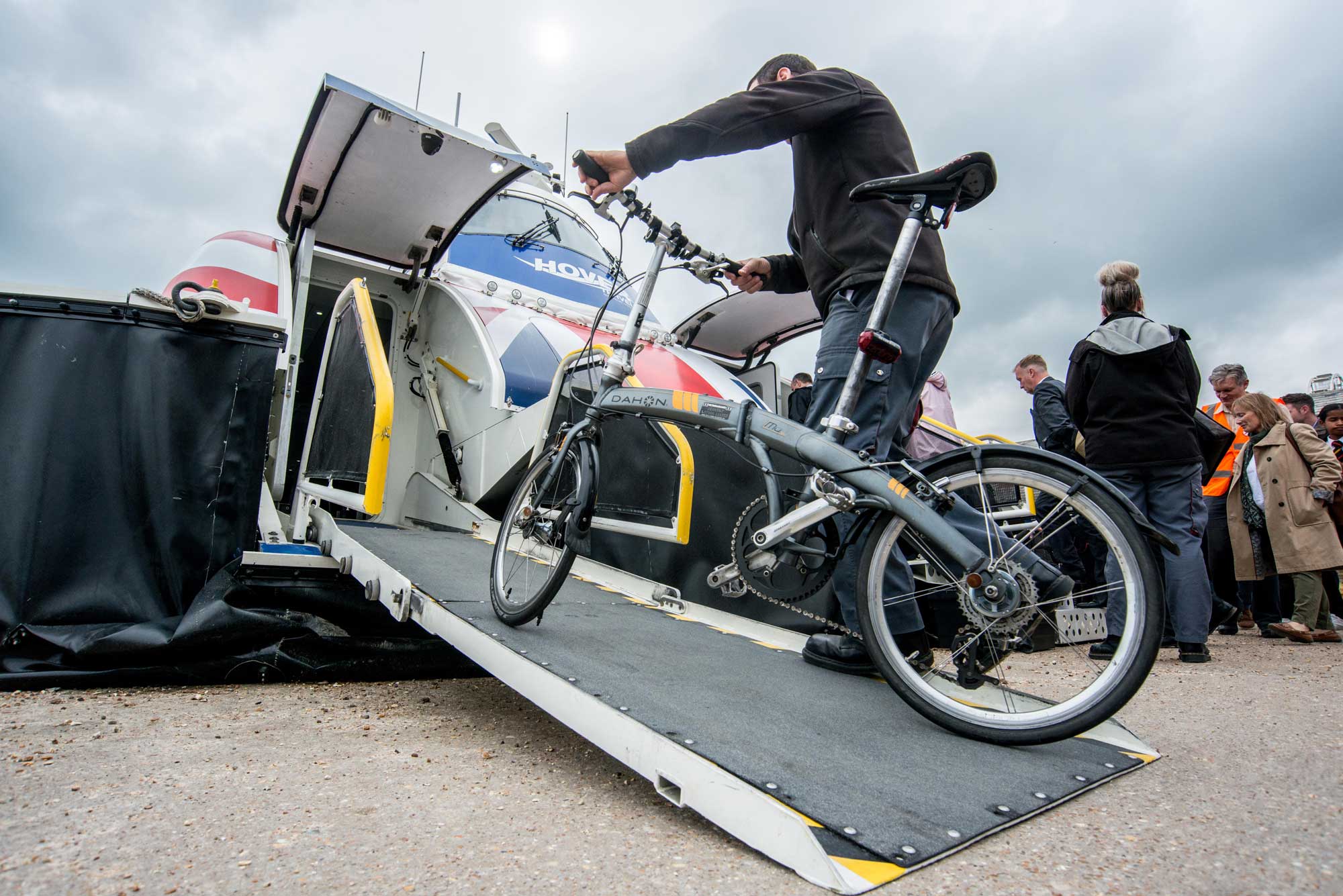 Hovertravel is using Cycle To Work Day to celebrate carrying in excess of one million bikes for free. Back in 1965, Hovertravel's early craft were not designed to transport cycles but the current fleet can carry up to four bikes per crossing in designated areas within the luggage section at the front of the craft.
Julie Horrocks, Head of Ground operations at Hovertravel, adds: "Our service has adapted to answer the increased demand for transporting bikes. We have seen significantly more commuters travelling with bikes and this is reflected across our own workforce with more Hovertravel staff cycling to work than at any time in the company's history."
In addition to the cycle-friendly luggage compartment on the craft, Hovertravel has a bike shed and lockers at its Southsea terminal for commuters who wish to use their bike for just one part of their commute. Bikes can not be booked on the craft; this facility is provided on a first come, first served basis, is subject to availability and there is no extra charge.
Late night flights for Victorious Festival - 28/07/19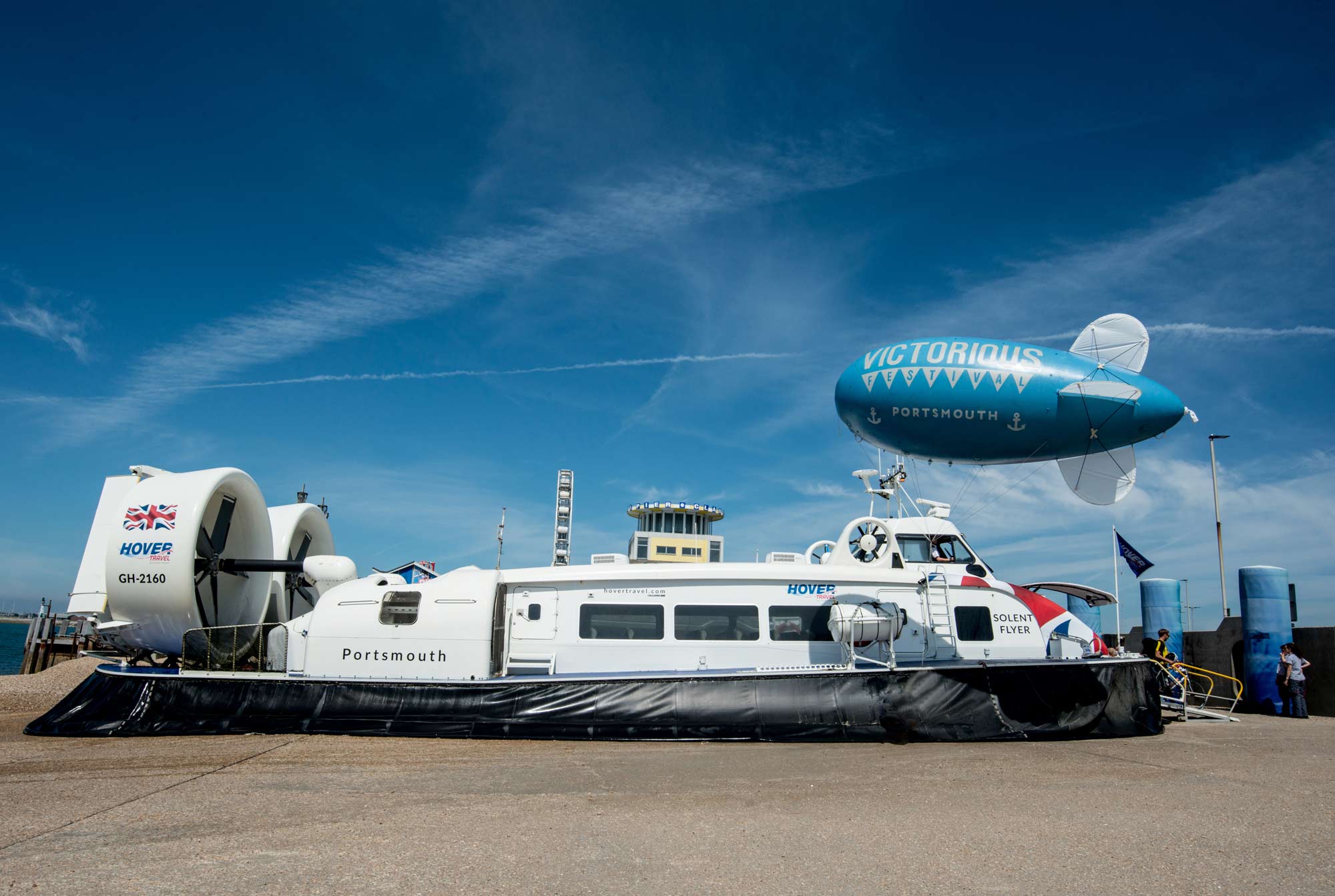 Hovertravel and Victorious Festival's successful partnership has lifted off again with seats for Hovertravel's extra later services, over the festival weekend, selling fast.
'This is the third year we have added additional night time services for the Victorious Festival," says Loretta Lale, Head of Commercial at Hovertravel, "As the closest ferry operator, we deliver visitors to the festival on the edge of Southsea Common and we get those customers there twice as fast with a journey of just ten minutes.
It makes sense to extend our timetable, on past the evening to beyond midnight, so the island community has the flexibility to enjoy the complete Victorious experience and still get home quicker than any other route."
The award-winning Victorious Festival is on Southsea Common for the 2019 August bank holiday with a host of headliners including Two Door Cinema Club, The Specials, Rudimental, Lewis Capaldi and New Order.
Hovertravel Later Services for Victorious Festival:
Friday
From Southsea: 2230, 2300, 2330,(Saturday) 0000 and 0030
Saturday
From Southsea: 2230, 2300, 2330, (Sunday) 0000 and 0030
Sunday
From Southsea: 2230, 2300, 2330, (Monday) 0000 and 0030
All the additional services are on sale now and you can book until 31 July with a 20% discount. Call 01983 717700 and quote 'VICTORIOUS19' to obtain the discount.
Ferry friendly to the environment - 26/07/19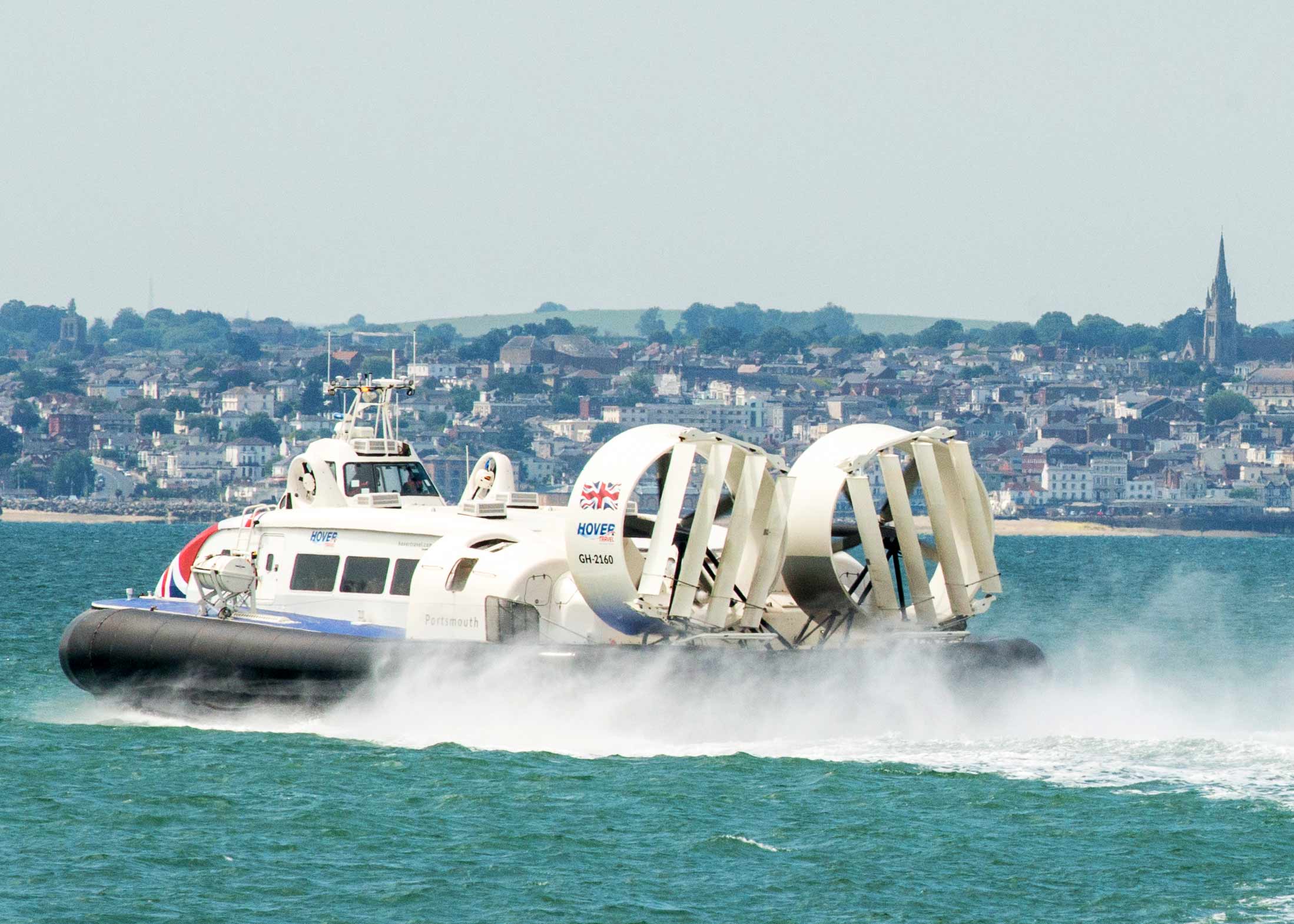 As National Marine Week starts, Hovertravel is urging everyone to visit the beach to experience the sights, smells and sensations of the seashore. As a beach-based business, Hovertravel's terminals are ideally placed to become part of a day trip to the seaside and as the world's only year-round passenger hovercraft service, its operations are much less harmful to the environment than traditional shipping.
Loretta Lale, Head of Commercial at Hovertravel, explains: "For over 50 years we have been transporting people and packages from beach to beach, giving holidaymakers the chance to experience the sandy shores of the Isle of Wight and island residents the chance to visit their nearest aquarium, Blue Reef in Southsea. Today our hovercraft represent the most advanced passenger hovercraft technology in the world and this in turn means that the marine environment can be travelled over in a sensitive, more direct manner, without needing to dredge and disturb it."
These benefits come from the way hovercraft function by creating a pressurised zone of air to lift the entire hull above the surface. Hovertravel's 12000TD craft, use the most modern mechanical innovations and technology found in a hovercraft and can carry 12 tonnes of payload at over 1.5 meters above the surface. There is no displacement of craft weight in the water and the hull is not in contact meaning marine life are left alone to their own devices. The two engines which provide power for lift and thrust in the 12000TD are housed internally within the hull and are therefore isolated from the ecosystems the hovercraft may be passing over, instead of requiring the ecosystem to provide the material for propulsion. This minimal amount of contact with the water also means the wash created even when travelling at high speeds remains low. 
For more details about Hovertravel please visit: www.hovertravel.co.uk and to understand more about The Wildlife Trusts' inspirational and engaging citizen science project please visit: www.wildlifetrusts.org/get-involved/other-ways-get-involved/shoresearch
Get closer to the sea for National Marine Week - 26/07/19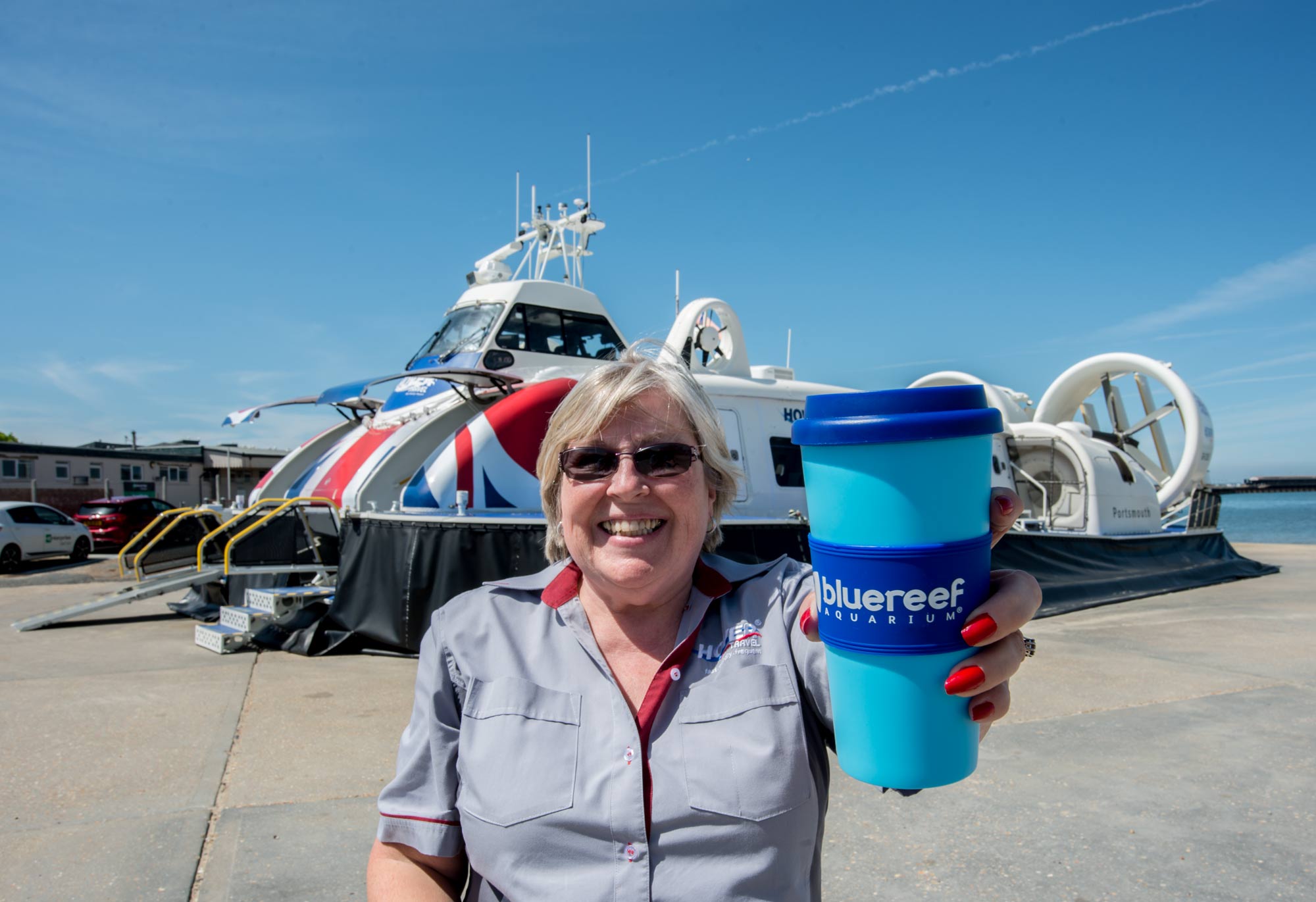 To celebrate the start of National Marine Week (27th July to 11th August) Hovertravel is promoting its partnership with the award-winning Blue Reef Aquarium in Southsea.
Loretta Lale, Head of Commercial at Hovertravel, explains: "Unfortunately there are no longer any aquariums on the island, so we have teamed up with Blue Reef to offer a discounted combination travel and entrance price. We can whisk any budding marine life enthusiasts across the Solent in ten minutes and following a short shoreside walk to the aquarium, visitors will be able to experience a dazzling undersea safari through the oceans of the world."
The all-inclusive ticket includes day return on the hovercraft plus entrance to the Blue Reef Aquarium and is available to buy online or at Hovertravel's Ryde terminal.
Blue Reef is currently hosting a Festival of Fishes where visitors learn about fish families, marine mysteries and homely habitats. There are expert talks and activities throughout the day, ranging from Rockpool Encounters to Shark Tales and even the chance to meet Charlie the Clownfish.
National Marine Week is The Wildlife Trusts' nationwide celebration of all things marine. Despite the name, it lasts 15 fun-filled days to allow for the variation in tide times around the country. During this time, Wildlife Trusts all around the UK put on a jam-packed programme of events and activities including rockpool rambles and guided boat trips.
Hovertravel shortlisted in national transport awards - 22/07/19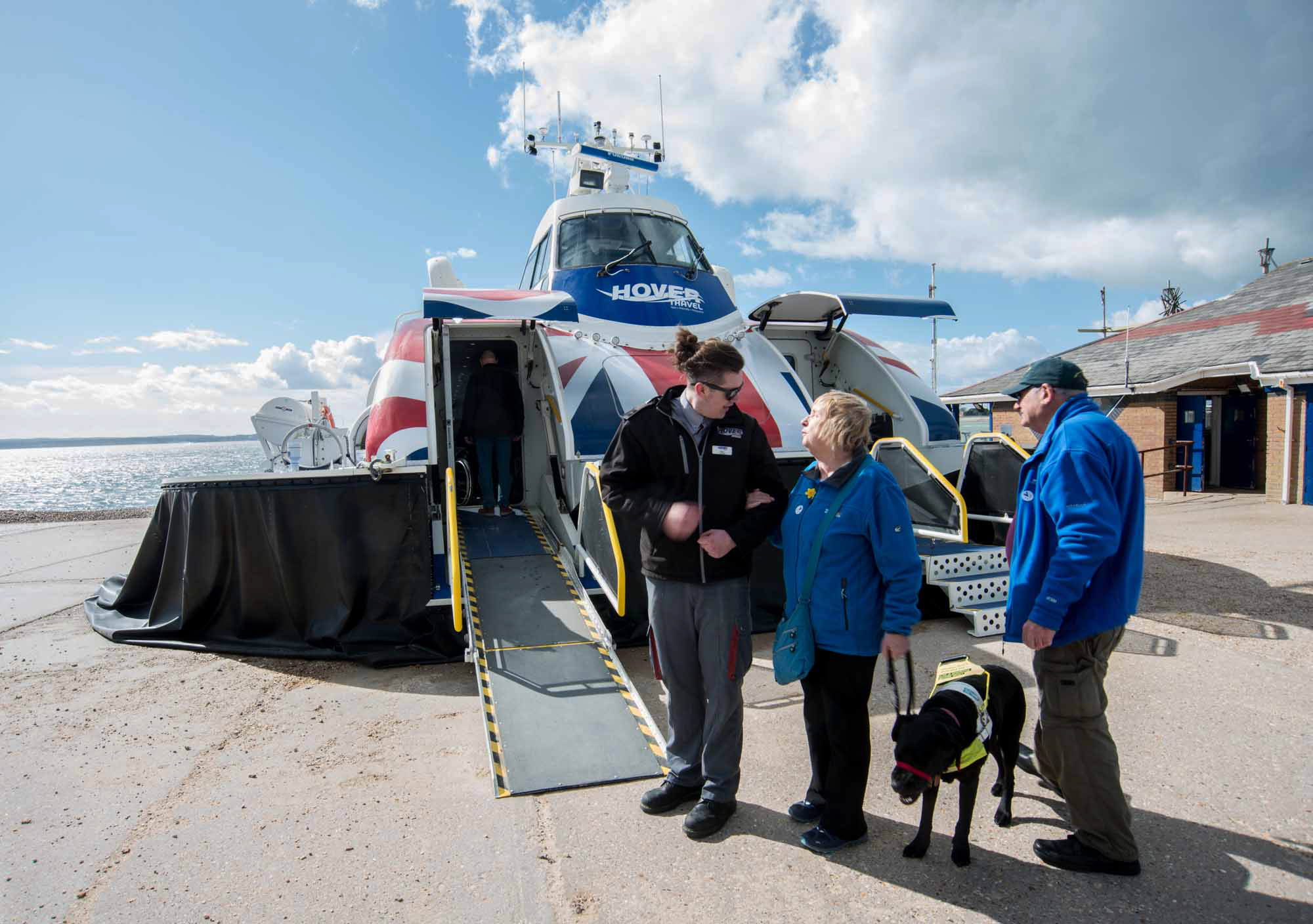 Hovertravel has been shortlisted in the 2019 National Transport Awards' Ferry Operator of the Year category. With a large number of entries this year, creating intense competition, it is Hovertravel's accessibility initiative, HoverCare, which has been selected by the judges to be in the final, alongside three other ferry operators. The winners will be announced at the 19th National Transport Awards in London on 31st October 2019.
Loretta Lale, Head of Commercial at Hovertravel, said:" This is the second time we have been shortlisted in the National Transport Award's Ferry Operator of the year and as we are especially proud to be in the final this year for our HoverCare initiative. We have expanded our efforts in improving accessibility for all with activities such as participating in national campaigns such as Disabled Access Day and training our staff in specific skills such as dementia awareness, Makaton and guided boarding. To be recognised as a finalist at a national level for this initiative elevates the conversation about accessibility to the very top of the UK transport sector."
HoverCare is a service for any Hovertravel customer requiring assistance with their travel whether they have reduced mobility requirements or just need a little extra help with their journey.  Hovertravel is committed to ensure access and travel on its hovercraft, in its terminals and during all elements of the journey from start to finish, are as comfortable and safe as possible.
Supported by the Department for Transport and Transport Focus, the 2019 National Transport Awards has a distinguished panel of expert judges including representatives from The Transport Select Committee, Transport Focus, Greener Journeys and a professor in Transport at Plymouth University.  These judges asked entrants to outline the range of initiatives that the ferry operator has been involved in to improve services and facilities together with results that have been achieved. 
Flying proud for Isle of Wight Pride - 20/07/19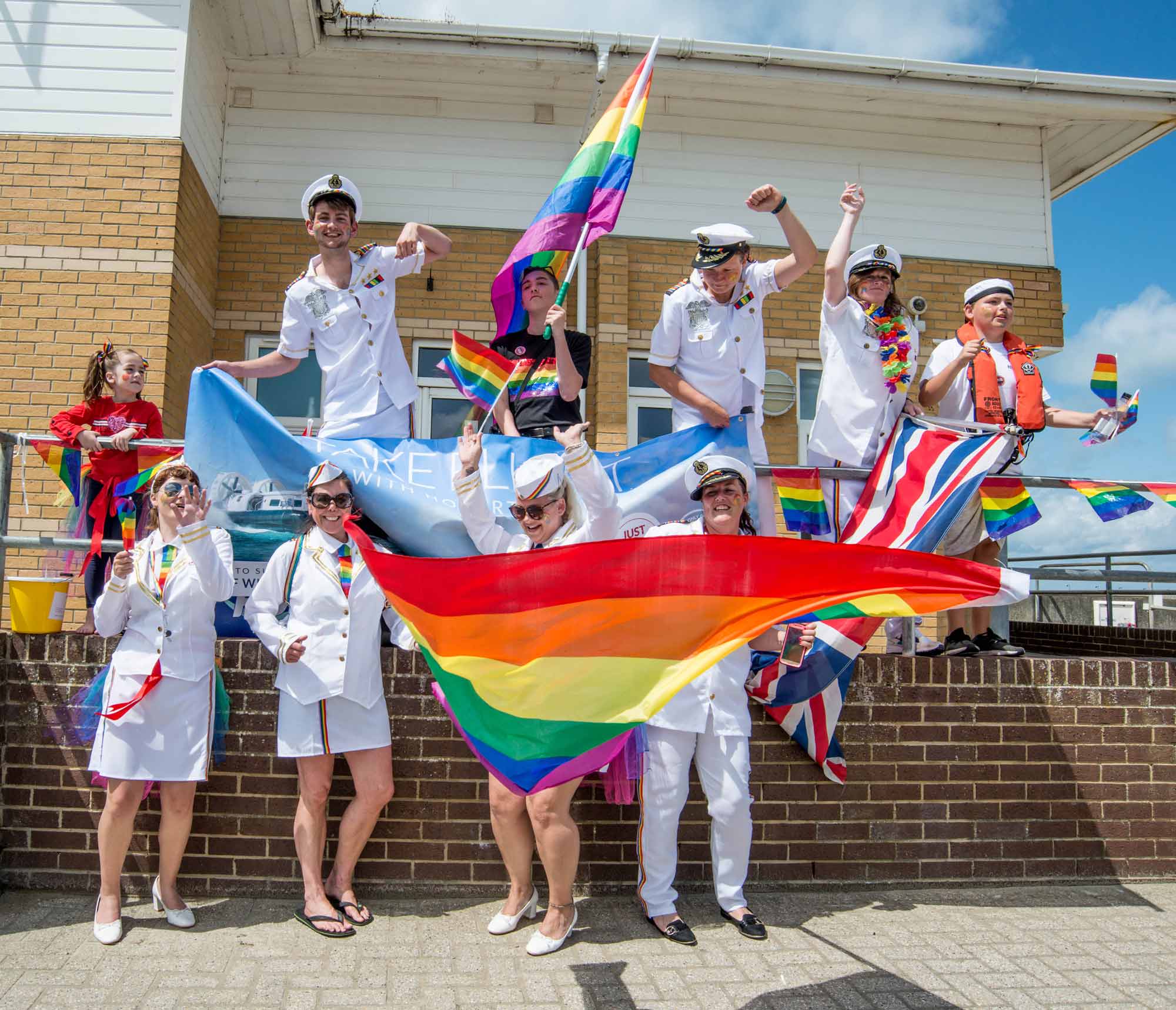 Hovertravel flew the rainbow flag for Isle of Wight Pride on Saturday. From extra services, a celebrity host at Southsea, our staff adding a nautical theme to the parade in Ryde, this day was about adding extra colour to this exciting event.
Loretta Lale, Head of Commercial at Hovertravel, added: "This year is the 50th anniversary of the birth of the modern LGBT+ rights movement and our teams were keen to support the Isle of Wight Pride 2019. Even half a century later, it is important to celebrate past achievements and continue to raise awareness, so we can all have the freedom to live, to love and to be ourselves, free from hatred, discrimination or criminalisation."
2019 saw the Isle of Wight Pride parade return to Ryde, where all the shops created colourful displays, crowds lined the streets and a wave of colour washed down Union Street into the Esplanade. Local businesses and volunteers joined in the fun including Southern Vectis, Isle of Wight Scouts as well as sponsors Unison, Inner Spaces and Ryde Town Council. Hovertravel's parade participants were dressed in white sailors' uniforms, highlighted with flashes of rainbow colours on their caps, cuffs and epaulets.
Supporting local businesses - 19/07/19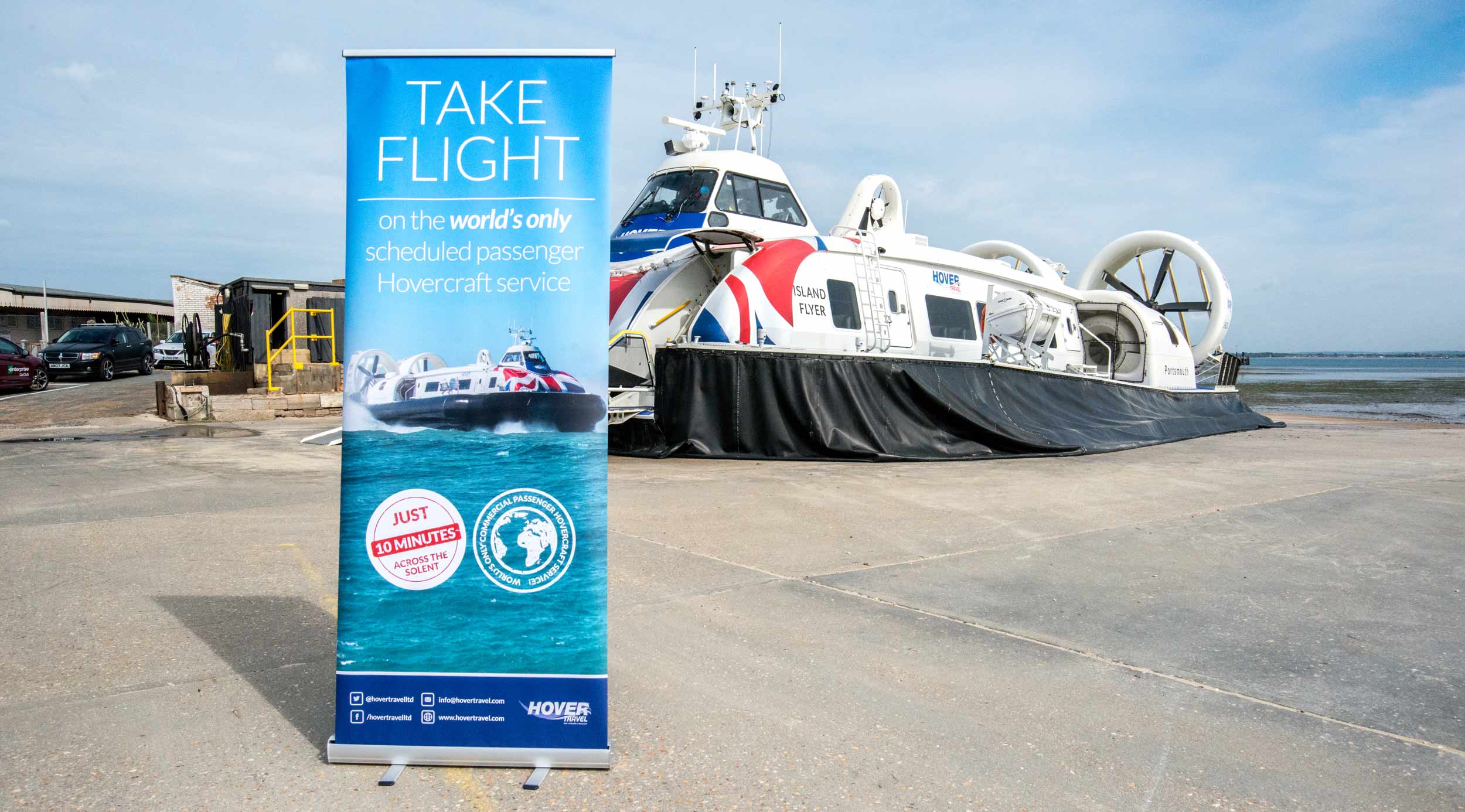 Hovertravel has been engaging local businesses on both sides of the Solent in the last week, exhibiting at both the Portsmouth Expo and the Isle of Wight Expo.
Loretta Lale, head of commercial at Hovertravel, explains:" We are a vital link between the two communities of Portsmouth and the Isle of Wight, delivering time sensitive products and people in a hurry twice as fast as any other ferry. As an anchor business and significant employer in the region, we take our corporate responsibilities very seriously and are always looking for ways to support other businesses."
The Portsmouth Expo was held at The Pyramids on Southsea seafront, just a short walk from Hovertravel's terminal. This is Portsmouth's biggest business show with over 60 exhibitors meeting hundreds of visitors – all keen to network and forge relationships with local companies.
Organised by the Isle of Wight Chamber of Commerce, the Isle of Wight Expo one day event at the Lakeside Park Hotel in Wootton brought the Island's business community together for a high value day packed full of quality networking opportunities, seminars and exhibitor offers.
Hovertravel works with many companies, of all sizes and provide a number of services such as freight, corporate accounts, and charitable co-operation to help businesses across the Solent region grow and succeed.
Pride icon hosting at Hovertravel for Isle of Wight Pride - 12/07/19
Award winning drag persona Miss Jason will be strutting her stuff and entertaining the crowds at Hovertravel's Southsea terminal on Saturday 20th July.
Miss Jason says: "I love a meet and greet and what better way to extend a warm welcome to all those people crossing the Solent for the infamous Isle of Wight Pride than having me posing on the pad. I shall smile for the selfies, wave off every flight and bring some extra colour to Hovertravel's operation."
Appearing exclusively at the Southsea terminal, Miss Jason will be hosting customers for hovercraft flights to Ryde from Southsea starting from 10am to 1pm.  This year's Isle of Pride begins at noon with an exuberantly colourful parade starting from Queens Road in Ryde, flowing down West Street before making its way through the town down Union Street to the sea front and along Ryde Esplanade.  The parade will finish around the Superbowl, next to Hovertravel, where there will be a community village and market.
Loretta Lale, Head of Commercial at Hovertravel, adds: "Hovertravel is a strong supporter of the vibrant LGBTQ community on the Isle of Wight and beyond. For the last three years our staff have used this event to demonstrate the diversity which exists in our business and raise awareness of the prejudice and violence still faced by this community around the world. We are also helping to bring people to Ryde for this wonderfully inclusive event and thank Miss Jason getting the fun started across the Solent in Southsea."
For more details and information on how to book please visit: https://www.hovertravel.co.uk/special-offers/isle-of-wight-pride-2019/
Summer excitement for St. Jude's Church Nursery - 11/07/19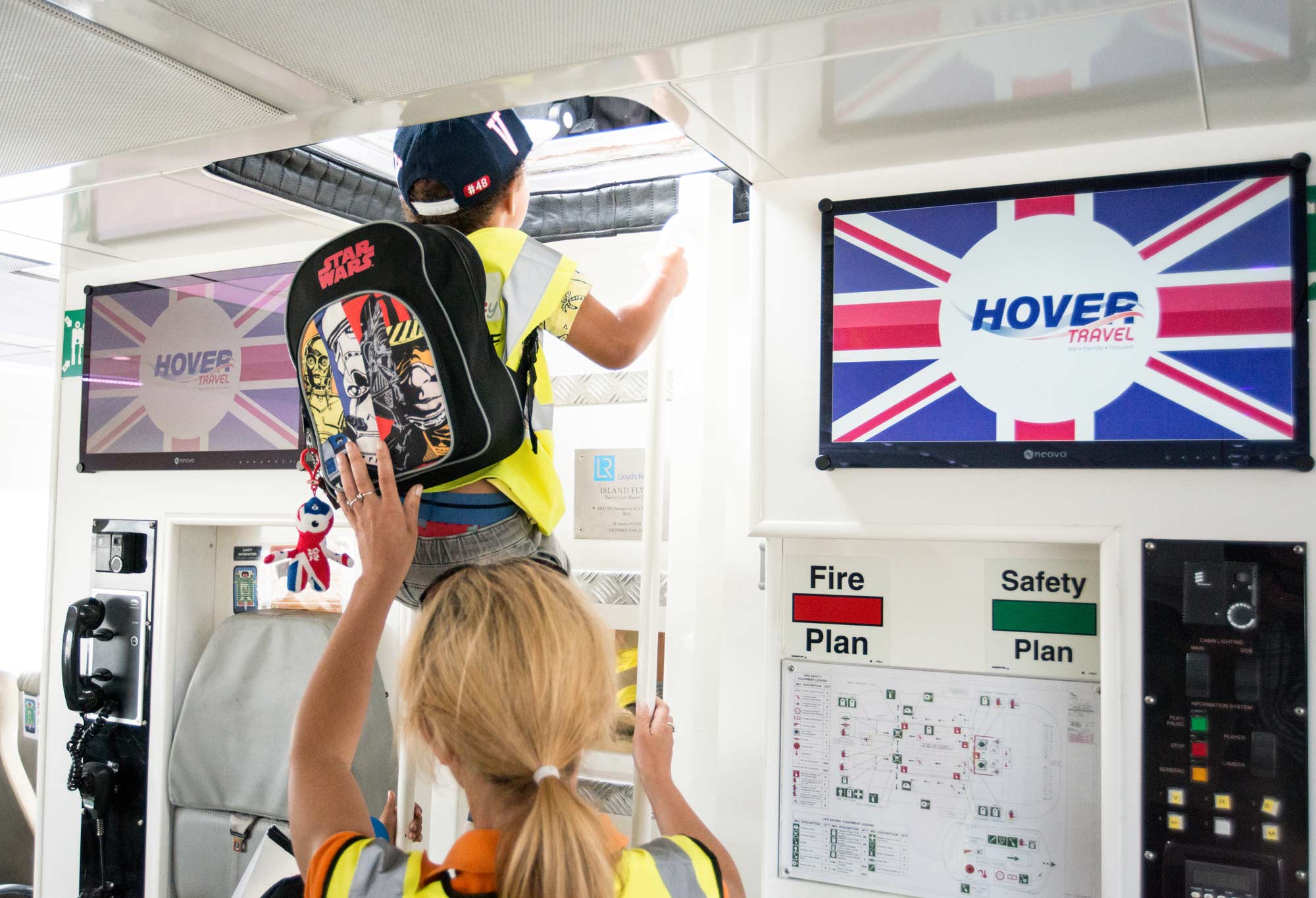 St. Jude's Church Nursery, an established popular nursery in Southsea, took their children on a series of summer outings with Hovertravel.
Sharon Riley, Room Leader at St. Jude's Church Nursery, explained: "For children who are just three or four years old, summer outings are very exciting and as we have the world's only passenger hovercraft service on our doorstep, we wanted to include a flight across the Solent as part of the day. We are the first nursery to book a series of trips with Hovertravel and they have been the perfect hosts, providing stickers, certificates as well as a hello from the pilot!"
Hovertravel's fully accessible 78-seater hovercraft cross the Solent more than twice as fast as any other ferry operator and can provide a tailored experience for groups of all ages. Optional add-ons can include a 15-minute hovercraft demonstration, a question-and-answer session with the pilot and crew and the chance to meet Henri the HoverBear.
Loretta Lale, Head of Commercial at Hovertravel, added: "Seeing the excitement as the children board our hovercraft is very rewarding for everyone at Hovertravel, knowing that they will always remember their first flight with us. From our very first summer back in 1965, we have been family friendly and today we still welcome all ages, from school children crossing every day of term to A Level students studying engineering on a STEM visit."
The Wight Book celebrates Island Life - 10/07/19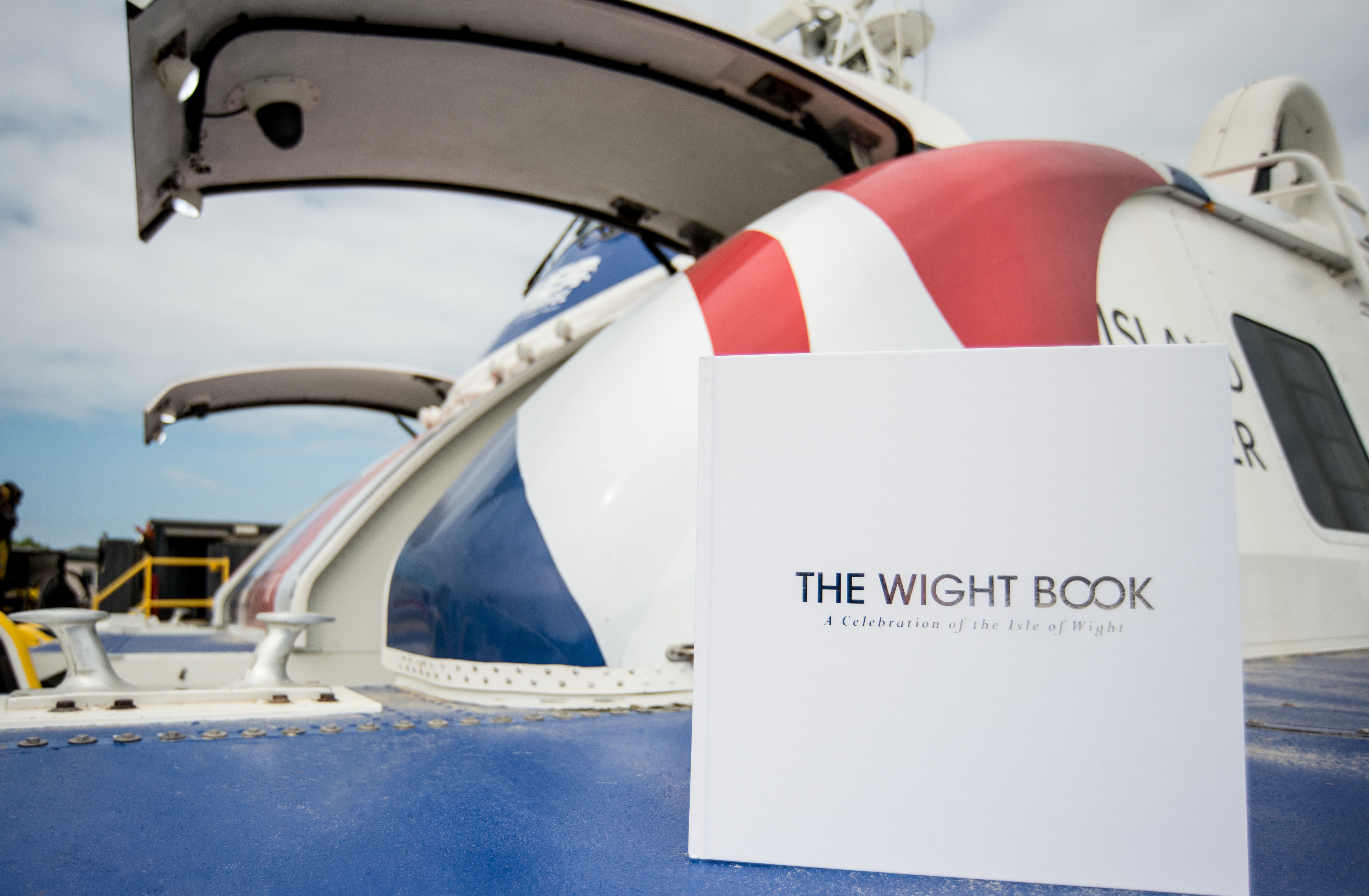 Hovertravel is part of a project to celebrate the Isle of Wight with the publication of The Wight Book – an independently funded, large format, hardback book which celebrates the unique, the innovative, and the dazzling of the island.
Christopher Scott, co-author, explains his vision: "Some years ago, I had an idea to make a film and to create a high-quality book to celebrate what is best about the Isle of Wight, what it excels at now, along with its aspirations for the future. Part advocacy and part artwork, The Wight Book is the realisation of that dream. Brian Marriott, my co-author, and I intended the book to be produced independently of any institution, showcasing the Island in pictures, words and opinions by people who care about its unique environment and sense of community. We wanted to present our history, innovative DNA and cultural flair – in particular our excellence in food production, opportunities for business and growing potential for quality in architecture and housing."
Using the words of 22 leading figures across the island and ten highly talented photographers, The Wight Book showcases the Isle of Wight better than any previous book.
Loretta Lale, Head of Commercial at Hovertravel, adds: "We knew instantly that we had to be part of this project which focusses on the Isle of Wight. We promote this amazing Island every day and dedicate considerable resources to ensuring that we help to raise awareness of, and encourage visitors to, this very special destination. As a business which was born on the island, we are extremely proud of the Isle of Wight and are excited to see The Wight Book tell its story through a unique collection of words and pictures."
The White Book is available to purchase at Hovertravel's terminals.
Hovertravel Pilot Nick Wood shortlisted as Travel Pride Champion - 04/07/19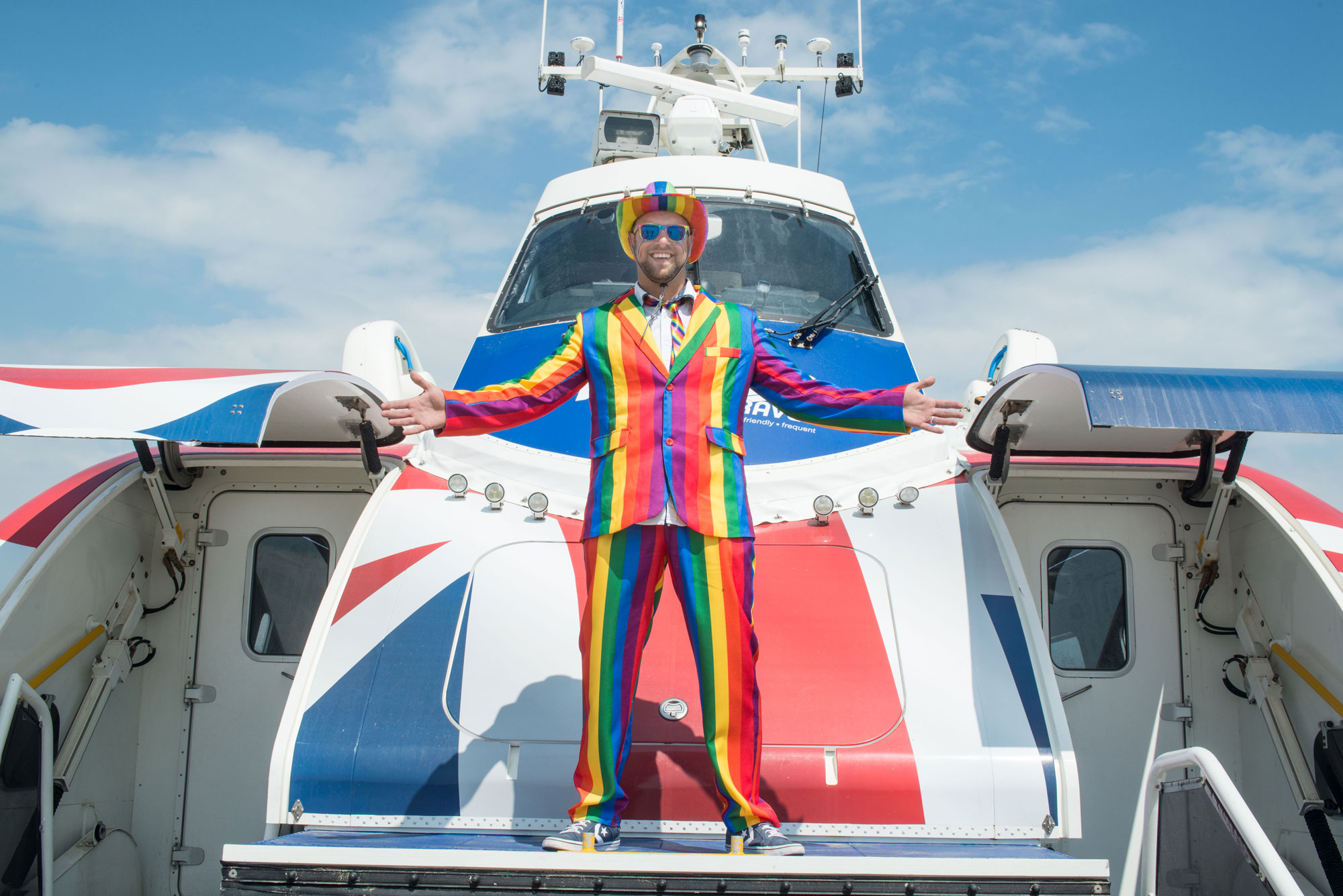 Leading travel trade publication Travel Trade Gazette today announced that Hovertravel pilot Nick Wood is on their shortlist of LGBT Travel Pride Champions for 2019. A total of 15 individuals have been shortlisted for the accolades for their work in championing diversity and travel.
Nick Wood flew a hovercraft, emblazoned with rainbow flags and carrying VIP guests, to the first ever UK Pride on the Beach. Landing on Ryde Sands on the Isle of Wight, just metres from the Pride Festival, Nick completed this tricky manoeuvre whilst wearing a two-piece rainbow suit and cowboy hat.
Flying a 45-tonne cross between a helicopter and boat at up to 50 knots through one of the world's busiest shipping channels to land precisely at the Pride event demonstrates Nick's commitment to his job.
Loretta Lale, Head of Commercial at Hovertravel, adds: "Nick is a great ambassador for Hovertravel's commitment to diversity and inclusion. The photos and publicity from 2017 and 2018 profiled Hovertravel's involvement in Pride and the LGBT community. Even more significantly the image of rainbow suited Nick standing on the deck of a hovercraft has become a symbol both internally and externally for the inclusivity of Hovertravel."
From creating diversity and inclusion training modules for agents to helping establish gender-neutral toilets, TTG has said that the judges were both inspired and impressed by the incredible work of individuals throughout travel. The winning Travel Pride Champions will be named at this year's Travel Pride on 9 July at the Queen of Hoxton, Shoreditch.
Large print timetables now available - 02/07/19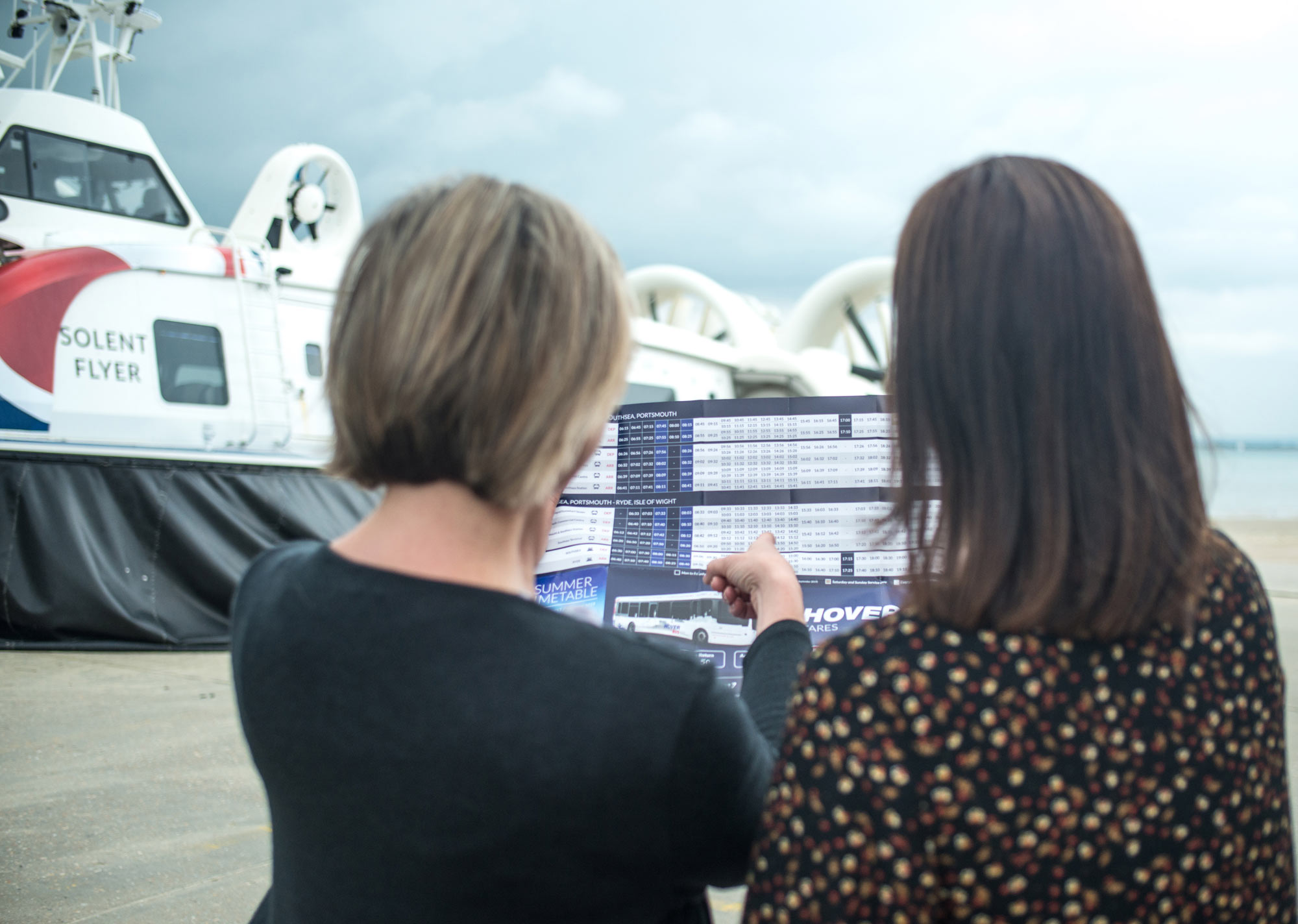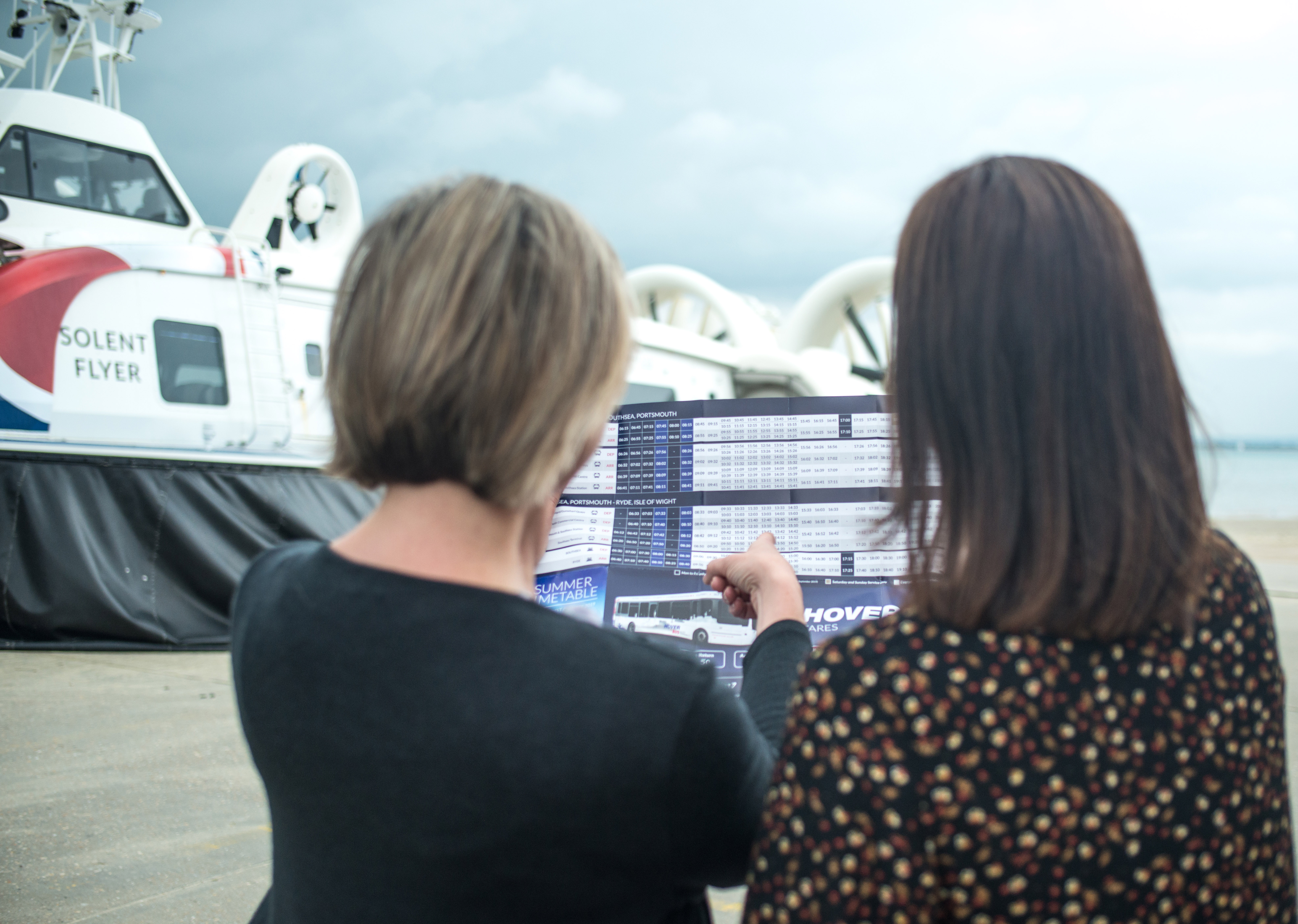 Hovertravel has produced bigger versions of its printed timetables for customers who request a larger printed format.
In the UK, there are almost 2 million people living with sight loss and The Royal National Institute for Blind People estimates that 93% of people who are registered blind or partially sighted retain some useful vision.
Loretta Lale, Head of Commercial at Hovertravel, adds: "Although our timetables are available online to view or download, we have always printed a small number of pocket-sized paper timetables. As part of our Hovercare initiative we have been listening to feedback from our customers and there were several requests for a much larger timetable.
So, we have created a super-size version which when folded out measures a whopping 49x42 cm yet folds into pocket-size when not being used."
Hovertravel's Hovercare initiative continues to evolve by listening to customers and other groups in the community and acting on their feedback to make the experience of travelling by hovercraft even more accessible. Hovertravel's large and small timetables are available at both Ryde and Southsea terminals.
Hovertravel salutes our Armed Forces - 28/06/19

To help celebrate Armed Forces Day (Saturday 29th June), Hovertravel is showing its support by collecting salutes from its staff and posting them across its social media networks.
The #SaluteOurForces initiative is a simple way for anyone to pay tribute to the British Armed Forces community for their hard work and dedication in keeping us safe in the UK and across the globe. Hovertravel staff from across the business, including pilots, cashiers, crew, engineers, finance and admin staff have joined in to say thank you.
Loretta Lale, Head of Commercial at Hovertravel, explains: "Hovertravel has a proud history of helping military service personnel. We have an ongoing 20% discount for all active armed forces through the Defence Discount card scheme and we are looking to launch an offer for veterans with Veterans Outreach Support.
In the 54 years since we started, we have always had staff who were ex-military and today we also have two workers who started with us and are planning to go on to a career in the Royal Navy."
To see Hovertravel's staff #SaluteOurForces please visit our Facebook and Twitter pages and for more details of our Defence Discount deal please click here.
A Royal demonstration from Hovertravel - 26/06/19
As part of Her Royal Highness The Princess Royal's visit to The Hovercraft Museum yesterday, Hovertravel's Solent Flyer performed a series of manoeuvres designed to demonstrate the hovercraft's unique abilities. Princess Anne was visiting the world's only hovercraft museum to celebrate the 50th anniversaries of the naming of the giant SR.N4 hovercraft The Princess Anne by HRH in 1969 and the start of the continuous cross-Channel services from Ramsgate and Dover to Calais and Boulogne by the Swedish owned Hoverlloyd and British Rail owned Seaspeed. The visit also marked the 60th anniversary of the first Channel crossing from Calais to Dover on the experimental SR.N1 hovercraft with the inventor, Christopher Cockerell, on board.
Before receiving a painting of the hovercraft, and unveiling a plaque, Her Royal Highness toured the museum where she met nearly 100 people from eight organisations associated with the early days of the development and operation of the hovercraft, through to those involved with the construction and operation of the modern day machines, of which Britain is still the world leader.
Brought in especially for the visit to sit alongside The Princess Anne was one of Hovertravel's modern 80 seat passenger craft used on the Southsea to Ryde, Isle of Wight, route, and the state of the art Griffon 995, both manufactured by Griffon Hoverwork of Southampton.
Hovercraft history repeated with Airbus engineer - 24/06/19
Last week, John Carter was again involved in a ribbon cutting ceremony at Hovertravel, almost 54 years after he was part of the inaugural Hovertravel flight from Ryde to Stokes Bay, Gosport.
On 4th August 1965, newly employed John was part of the beach crew at Hovertravel's Stokes Bay operation. His task for the ceremony was to hold one end of a ribbon as the first Hovertravel flight from the Isle of Wight landed to officially open the service. That flight included some high-profile guests including Lord Louis Mountbatten and was welcomed ashore by the mayors of both Gosport and Portsmouth.
Re-enacting the ribbon cutting last weekend John took centre stage this time, cutting the ribbon in front of all the guests of an Airbus private hovercraft charter in aid of the Portsmouth Down Syndrome Association. John, now a design engineer in the space and aviation departments of Airbus, expressed his joy at being at both events: "I took the job at Hovertravel for the summer before going on to start my career at the MOD and it was very exciting for a young boy just out of school to be part of this new and unusual hovercraft service. Now with over five decades of working in the aviation sector I am thrilled to be part of another fun day on the hovercraft, especially as today's trip is raising money for such a worthy cause."
Seventy-four Airbus staff and families enjoyed a fun-filled two hours with the hovercraft, including demonstrations of the craft's unique manoeuvrability at sea and show-and-tell session with the pilot, raising over £1500 for the Portsmouth Down Syndrome Association.
Free reusable water bottles for staff and free customer refills at Hovertravel - 19/06/19
Today, as part of National Refill Day, Hovertravel is helping its staff get involved in its efforts to reduce the use of single-use plastic by giving staff free refillable water bottles. Across Hovertravel, the 85 staff which work on both sides of the Solent from pilots to engineers and handling agents to cashiers, will be encouraged to use one of the reusable bottles.
Chris Davis, one of Hovertravel's HoverGreen Ambassadors, said, "Thanks to programmes such as the BBC's Blue Planet, there is much more awareness of single-use plastics and the devastating effects they are having on our environment and oceans. At the same time, we are always encouraging our staff to stay hydrated with the consequence that across our business we consume over 20,000 bottles of water each year. The introduction of reusable water bottles for all staff means we can impact our usage of single-use plastic whilst keeping our teams refreshed and healthy."
Hovertravel has supplemented this HoverGreen initiative for their staff with a commitment to involve their customers too. Chris adds: "As a responsible business, we are committed to reducing our environmental impact wherever we can, and we are improving the choice for our customers by offering free tap- water refills for any customers who bring in their own reusable water bottles."
In 2018, Hovertravel formed an internal action group of HoverGreen ambassadors to explore how the company's environmental initiative could be developed. Alongside monthly beach cleans, there are plans to offer regular training on how to manage waste effectively and increase recycling.
Home from the Isle of Wight Festival twice as fast - 17/06/19
Hovertravel has helped the returning Isle of Wight Festival visitors return home even quicker today. By running additional services starting with an extra service at 6am, the customers were flown back across the Solent in double-quick time.
Loretta Lale, Head of Commercial at Hovertravel, explains: "With a journey time twice as fast as any other cross-Solent ferry we have the ability to add services to our timetable to handle increases in demand. So today we ran twice as many crossings as normal and with almost every craft full, we have kept a steady flow of customers moving off the Island."
The festival goers appreciated the quick crossing and fun atmosphere at Hovertravel's Ryde terminal, smiling and waving even after a hectic weekend of partying.
Happy start to Isle of Wight Festival - 13/06/19
Smiles and grins were very much in evidence at Hovertravel today, despite the squally rain showers and occasionally chilly breeze. The 2019 Isle of Wight Festival opened its gates and as usual Hovertravel was full of festival goers keen to get their weekend started.
Loretta Lale, Head of Commercial at Hovertravel, adds: "From 6am this morning we have had a warm welcome ready at our Southsea terminal and we have been operating full craft and keeping to timetable throughout the day. Once again our staff have done great work in handling exceptionally large quantities of luggage as the festival visitors continue to bring all their provisions with them. Best of all, there has been a great atmosphere of anticipation for a fun weekend and we have kept all our customers smiling."
The Isle of Wight Festival began with a series of Festivals between 1968 and 1970, widely acknowledged as Europe's equivalent of Woodstock. This year's event, which runs from 13-16 June, includes Noel Gallagher's Flying Birds, George Ezra, Biffy Clyro and Fatboy Slim.
Hovertravel helps clean up Ryde Sands - 12/06/19
A team of volunteer litter-pickers from Hovertravel were mucking in today to help rid Ryde beach of rubbish, making this their third consecutive month of beach cleans.
Hovertravel's HoverGreen approach is a staff-led initiative which identifies ways in which the business can use its resources to help the local environment. One of the first suggestions from the teams was to ask for volunteers for a monthly beach clean.
HoverGreen Ambassador at Hovertravel, Chris Davis explains: "The beach is such a lovely scenic location and we found we made a difference in just over an hour. Bringing people together from across the 85 staff in the business meant involving people from both terminals and across all departments. We even had staff come in on their day off. It was so satisfying to know that our efforts are improving the environment for both residents and visitors."
The latest beach clean collected some of the biggest items so far – with a car tyre and a random piece of glass fibre being retrieved from the shore just along from our Ryde terminal. The team also found also nappies, tea bags and a random silicon-filled pouch alongside the usual sweet wrappers and cans.
Priority boarding continues during the festival weekend - 11/06/19
Hovertravel is ready to help commuters and regular customers during the forthcoming Isle of Wight Festival weekend with priority boarding and dedicated queuing lanes within the terminals.
Loretta Lale, Head of Commercial at Hovertravel, explains: "We appreciate that many people rely on us to fly across the Solent for work and hospital appointments, or going on holiday to cruise ports and airports and our highly successful priority boarding system will be operating as normal during the busy Festival period. This avoids any unnecessary delays for our commuters and local residents as we fast-track these passengers to the priority boarding area at the front of the queue and on to the next available departure.
At the same time, we are taking advantage of our fast crossing times and flexible operation to add extra crossings to accommodate the increased demand from festival-goers."
Hovertravel is operating a booked craft service for all customers including visitors to the festival and this process has proven to be very successful in previous years. Priority boarding means that festival queues are kept to a minimum, regular customers get to their booked seats first and ensures the quickest turnaround for the craft.
Five Festival travel tips for the hovercraft - 10/06/19
Flying across the Solent at up to 50 knots on the world's only year-round commercial passenger hovercraft service is THE way to get to the Isle of Wight Festival. These awesome machines have carried everything from letters to lion cubs and pigeons to poodles.
Travelling to the festival probably means you are going to be packing significant quantities of drink, so the team at Hovertravel has provided a few tips to get the most out of your hovercraft flight.
1. No drinking on board
If you are carrying a drink – finish it, bin it or it will be taken from you to be disposed.
2. No drunks allowed onboard
You may have started to get into the festival spirit early but if you are too drunk, the pilot and crew are legally allowed to stop you travelling.
3. Pack sensibly
Although you are likely to be carrying 10x your own body weight in beer, the Hovertravel crew will help to ensure the safe transit of your luggage, even if it means disassembling your sack truck.
4. Pack responsibly
Hovertravel is unable to accept any dangerous goods on our hovercraft and, yes, this includes gas canisters in camping equipment.
5. Forget your passport
Contrary to urban myth you do not need your passport to travel to the Isle of Wight.
Hovertravel offers ten-minute crossings from Southsea, Portsmouth to Ryde on the Isle of Wight every thirty minutes. For more details visit www.hovertravel.co.uk
Extra service added for D-Day75 Fireworks - 07/06/19
Hovertravel is helping everyone to enjoy the full day on Saturday 8th June when Southsea Common hosts the first ever Portsmouth Revival Festival by running an extra late service at 22:30.
Loretta Lale, Head of Commercial at Hovertravel, explains: "We have been supporting the D-DAY 75 anniversary events throughout the week and we will be running one extra late service from Southsea on Saturday 8th June at 22:30 to allow people who want to enjoy the full 15 minute fireworks display starting at 22:00."
The Portsmouth Revival will be a weekend of entertainment and activities for all the family featuring music and dancing from the 1940s, arena displays, military and vintage vehicles, vintage fairground rides, a 1940s vintage market, and archive and war film screenings. There will also be a Red Arrows flypast at some point during the afternoon.
Then the evening starts with the Sunset Concert for Heroes, a 1940s themed concert featuring the Portsmouth Military Wives Choir, the D-Day Darlings, and the Royal Marines Association Concert Band all performing on the main stage at Southsea Common. This is a free and un-ticketed event which starts 19:30 and finishes at 22:00.
Finally, on Saturday there will be a D-Day 75 themed firework display on Saturday 8 June at 10pm, supported by Gunwharf Quays. The fireworks will be lit from barges moored off Southsea seafront, making Southsea Common the perfect place to watch the display and conclude Saturday's entertainment.
Enterprise Car Club now available at Hovertravel Ryde's Terminal - 06/06/19
Enterprise is expanding its Enterprise Car Club operation on the Isle of Wight by adding two new vehicles to an all-new location based at Hovertravel's terminal in Ryde.
The move means that business, leisure and residential travellers visiting the Island can quickly pick up a car the minute they step off the hovercraft – at any time of the day or night - and get on the road straight away.
With vehicles parked just a few seconds' walk from where the hovercraft lands, the Enterprise Car Club service is both very convenient and can help those visiting the Island to save money. This is because the combined cost of using the hovercraft and picking up an Enterprise Car Club vehicle on the Island can cost less than bringing a vehicle to the Island for the day on the car ferry or relying on Isle of Wight taxi services. The service is therefore especially appealing to the many SMEs who travel between the Island and mainland and are looking for more cost-effective travel choices.
What's more, Enterprise Car Club members will receive an extra 20% off travel with Hovertravel, as well as £10 driving credit and annual membership for just £10 – reduced from £60*. Enterprise Car Club is planning to add vehicles to Hovertravel's terminal in Southsea later this year allowing those travelling from the Island to also continue their journey seamlessly the other side.
Paul Smith, Enterprise Rent-A-Car General Manager for South Central England, said: "The Isle of Wight is a location where the benefits of Enterprise Car Club really come into their own, allowing people to cross the Solent and have a car waiting the other side – while avoiding the notoriously high costs of taking a vehicle to or from the Island.
"Due to this, the service has proved really popular with Islanders and visitors alike since we launched in East Cowes and Newport in 2017 and as a result, we are expanding to cover more of the Island's transport hubs. The increased presence of Enterprise Car Club vehicles at the island's sea terminals also means that fewer visitors need to bring their cars over, reducing vehicle congestion on the Island."
Neil Chapman, Managing Director of Hovertravel, said, "We fully support Enterprise Car Club's decision to locate vehicles at the Hovertravel terminal in Ryde. Car clubs are an excellent solution for the 'last mile' of a journey, when you've come off the hovercraft and you're trying to get to a business meeting or a friend's house. It means you can jump in a car when you need to, pay only for what you use, and rest assured that you're driving away in a low-emission vehicle that is perfect for the job. I regularly use Enterprise Car Club and I've been very impressed with how easy it is to use."
Enterprise Car Club membership is available to anyone 19 years or older and costs from £7 per month or £60 per year. Vehicles are available from £4.95 per hour including VAT and 21p per mile.
Enterprise Car Club uses the latest website and mobile technology to deliver a convenient and user-friendly process for people to apply for membership and then book vehicles. A new driver qualification process also allows applicants to simply upload a 'selfie', a picture of their driving licence and to register their payment details to qualify for membership.
Hovertravel helps Islanders honour D-DAY heroes - 31/05/19
Hovertravel will be running to timetable for all the D-DAY75 commemorative events next week, with the exception of just two cancelled services and four slightly amended services on Wednesday 5th June.
Loretta Lale, Head of Commercial at Hovertravel, explains: "We appreciate that the Isle of Wight will wish to pay their respects at the commemorative events in Portsmouth and we offer the fastest and closest ferry route across the Solent to Southsea Common, where the majority of events will be taking place."
In honour of their service, Hovertravel will be boarding veterans first, followed by any serving military personnel and then all other customers for the duration of these events. Pilots will be marking the occasion with special announcements and there will be additional staff in and outside Hovertravel terminals for any customers who might require extra assistance.
Out of the timetabled 70 services on Wednesday, the 11:45 ex Ryde and 12:00 ex Southsea will not run, whilst the 11:15 ex Ryde and 11:30 ex Southsea will both run ten minutes earlier at 11:05 and 11:20 respectively. Finally, the 12:15 ex Ryde and 12:30 ex Southsea will run ten minutes later at 12:25 and 12:40 respectively.
Loretta adds: "On Wednesday afternoon, with two flypasts and the goodbye to the MV Boudicca and then all through to Sunday, the events on Southsea Common are going to be very popular and we will be able to add in extra services as demand dictates.
We have already added an extra service on Saturday 9th June at 22:30 to make sure that customers can enjoy the 15-minute fireworks display on the common which will start at 22:00. Additionally, with several kilometres of bunting strung throughout our terminals and free flags for people to wave, Hovertravel is saying thank you to our D-DAY heroes."
As well as offering a 75% discount to veterans for the D-Day 75 events Hovertravel is offering 75 free tickets for veterans to travel to the commemorative events. Island residents with Hovertravel Blue cards can use their June 50% discount for these times and 2 adults plus up to 3 children can travel for £30 with the Off Peak family ticket.  All details and terms & conditions of each of these offers can be found at the Hovertravel website.
Hovertravel sells out pleasure trips from Lee-on-Solent over Bank Holiday - 28/05/19
Hovertravel ran three completely full pleasure trips from Lee-on-Solent, at the slipway opposite the Hovercraft Museum, over the recent Bank Holiday weekend.
Loretta Lale, Head of Commercial at Hovertravel, says: "Our pleasure trip programme is very successful and with three sold-out trips over this past weekend, demand is booming. Taking our hovercraft to Lee-on-Solent is a treat for us because that is very close to Stokes Bay from where our original service used to run, and we are also giving customers the chance to experience the world's only year-round commercial passenger hovercraft. We have seen how this experience appeals to people of all ages, looking to enjoy a unique activity."
The pleasure trips are a 20-minute demonstration of the capabilities of the hovercraft including exercises which show off the amazing manoeuvrability of these 12000TD craft, all accompanied by expert commentary from the pilot. At the end of the pleasure trips customers can meet the pilot and learn what it is like to fly a hovercraft, with its two engines developing up to 2,158 hp and enabling a top speed of 50 knots. There is also the opportunity to look around the craft, seeing how the lightweight aluminium structure has been precision engineered for comfort and aerodynamic efficiency.
Loretta adds: "Our hovercraft are a marvel of British engineering, operating at high speed across one of the busiest stretches of water in the world so we give our customers the chance to chat to our pilots and see where they work by allowing access to the normally closed cockpit."
Hovertravel has pleasure trips planned on 22 June, 10 August and 15 September from Lee-on-Solent with options to travel from Ryde. To book please call on 01983 717700 or email business@hovertravel.com.
Celebrating Hovertravel's unique experience in half-term - 24/05/19
As the world's only year-round, scheduled commercial passenger hovercraft service, Hovertravel offers an experience unlike any other ferry company and to celebrate this uniqueness, they are providing stickers and certificates to first-time customers this half-term.
Loretta Lale, head of commercial at Hovertravel explains:" We know that, whether you have travelled halfway around the globe or live just ten minutes from our terminal, a hovercraft flight is an exciting experience. We are acknowledging this excitement for our first-time users by providing a fun sticker and an official certificate as a memento.
We are delighted that so far we have had excellent feedback from first-time users of all ages – with mums, dads, grandparents and even great grandparents all keen to proudly wear their stickers."
Hovertravel's round sticker shows an illustration of the hovercraft emblazoned with British union flag and surrounded by the text 'I flew on 12000TD hovercraft today with Hovertravel'.
The certificate also states that the holder has flown on a 12000 TD hovercraft with Hovertravel and is an excellent reminder of the customer's first flight.
Loretta add: "Customers have told us that our certificates are being framed and displayed for visiting friends and families to see. People choose to fly with us with many reasons and we wanted to celebrate our unique experience with our first-time customers."
Hovertravel offers free child tickets for excursions to Lee-on-Solent - 16/05/19
Hovertravel is making it even easier to have a fun family day out by offering free travel for children on all their Summer 2019 excursions to Lee-on-Solent.
Loretta Lale, Head of Commercial at Hovertravel, explains: "We appreciate it can be hard to find things to do with the kids during summer, so we have introduced this new offer aimed at any parents who are looking for a different day trip. The flight to Lee-on-Solent is a quick 15-minute journey and free stickers and certificates make the hovercraft experience even better."
Once at Lee-on-Solent you can walk across the road to the world's only hovercraft museum which is celebrating 60 years of hovercraft this year. Their collection includes four hovercraft craft listed on the National Historic Ships' Register and the hovercraft which featured in the James Bond film 'Die Another Day'.
There are several coastal walks from the landing point at Lee-on-Solent, with the most scenic traveling east to Stokes Bay providing wide open views across the Solent. Once there you can play adventure golf at the pirate-themed Solent Spring 12 hole, 36 par crazy golf course or keep to a nautical theme with a visit to the Diving Museum, the Submarine Museum or the Museum of Naval Firepower.
This offer is only available for travel from Ryde, for children up to the age of 15 years, on the following dates: 26th & 27th May, 22nd June, 10th August and 15th September 2019. Free child tickets must be booked at the same time as the adult ticket and there is a maximum of two free child tickets per full paying adult. To book, please call 01983 717700 or email business@hovertravel.com.
Extra Services added for Walk the Wight - 07/05/19
Hovertravel is adding two extra services from Southsea, early in the morning on Sunday 12 May, to help walkers get across to the Isle of Wight in time to start Walk the Wight.
Loretta Lale, head of commercial at Hovertravel, explains: "Our normal Sunday timetable starts from Southsea at 0900 but the team's dedication and commitment towards our customers, and the Walk the Wight event itself, means that we can run two extra services much earlier."
Now in its 29th year, Mountbatten's unique and world-famous walk annually attracts thousands of people to walk across the beautiful Isle of Wight countryside to raise money in support of Islanders facing death, dying and bereavement. With the recommended start time of before 8am for the full walk from Bembridge, Hovertravel's early services will help transport mainland walkers across the Solent in plenty of time for their marathon-sized stroll.
The extra services will depart at 0615 and 0715 from Hovertravel's Southsea terminal. To book a seat on one of these additional services, tickets can be purchased online at www.hovertravel.co.uk or at both terminals.
Hovertravel launches HoverCare NHS staff fares - 01/05/19
Hovertravel's HoverCare initiative, which promotes better access for all, has launched a new discounted range of fares for all NHS and primary care workers who wish to commute across the Solent.
Loretta Lale, head of commercial at Hovertravel, explains: "We have listened to the local community about the requirement for discounted ticket prices for NHS workers. We want to ensure Hovertravel is the first choice of travel for NHS staff who need to travel to and from the Isle of Wight at short notice, and also to assist the NHS Trust with its recruitment drive."
As well as a significant 20% reduction on the standard day return price, there are also discounts for NHS staff who wish to buy unlimited travel cards ranging from 1 to 12 months or flexible travel cards ranging from 10 to 250 journeys.
Proof of NHS employment must be shown at the time of purchase and all customers will be given a HoverCare card which can be shown when requested in the terminals.
For more details about Hovertravel's NHS fare click here
Hovertravel welcomes Warwick Davies and IOW Scouts - 29/04/19
Scout Ambassador and actor, Warwick Davis, spent Saturday with 66 scouts chosen from each of the 23 scout troupes on the Isle of Wight.
Warwick was invited to the Isle of Wight by Lady Grylls and visited Hovertravel's Ryde terminal to meet with the scouts, and to go on board a hovercraft to learn how they work. He also met Imogen Baden Powell, great niece of Robert Baden Powell who founded the Scouting movement over 100 years ago.
Following an introductory chat with the scouts in the terminal, Warwick posed for photographs in front of a hovercraft with the scouts and guests and presented a bravery award to scout Dylan Reeves.
Warwick and the scouts then had a talk from pilot Jock, toured the hovercraft on the pad and were able to look inside the engines, and sit in the cockpit.
Loretta Lale, head of commercial at Hovertravel, added: "This special Scouts visit marks the start of our relationship with the Scouts Association. Today (Saturday) we are launching our discounted travel for all Scouts, Beavers and Cub groups and offering their volunteers a discount too. We are also proud to be able to say that this visit helps the Scouts gain their Air Activities – Flight Badge."
Hovertravel in Guardian's world's best public transport rides - 24/04/19
Readers of UK newspaper The Guardian have submitted their tips for the best public transport rides in the world and Hovertravel is featured as the second tip.
Loretta Lale, Head of Commercial at Hovertravel, says: "We know from our customers that the love and affection for Hovertravel reaches around the world and we are very proud to be featured in a list of such iconic public transport rides. With a journey time of under ten minutes we are certainly not a lengthy experience, but we do work hard to make every minute with us enjoyable."
The tip from Guardian reader Matthew highlights the speed of the hovercraft and the exciting moment when the craft transitions from land to water, before skimming across the Solent at speeds of up 45 knots, just 1.5 metres above the waves.
There are nine other readers tips featured in the article, ranging from cable cars in Columbia to water buses in Venice – see the complete list here: https://www.theguardian.com/travel/2019/apr/25/10-best-worlds-public-transport-rides-readers-travel-tips
Mayor's Charter from Gosport - 19/04/19
Hovertravel recently operated a charter for the Worshipful the Mayor of Gosport, Councillor Diane Furlong, from the slipway opposite the Hovercraft Museum at Lee-On-Solent. Guests came from across Hampshire to enjoy the unique experience of a private hovercraft charter.
Hovertravel's regular excursions to Lee-On-Solent have recently made hovercraft a more regular sight for Gosport residents, harking back to the very early days of the company when a seasonal service operated from Stokes Bay to the Isle of Wight.
After arriving on a vintage bus, the Mayor's guests were welcomed onboard Island Flyer with a short introduction from Hovertravel's managing director Neil Chapman and a briefing from the pilot, Captain Jock on what to expect during the trip. The hovercraft then departed to demonstrate its manoeuvrability with some 360-degree spins and high-speed turns followed by a deflation and reflation of its skirt, all accompanied by expert commentary from the cockpit.
On the return to Lee-on-Solent, the passengers disembarked and walked across the road to The Hovercraft Museum where they had some refreshments whilst learning about the history of these British invented amphibious vehicles.
New handy visitor guide published by Hovertravel - 12/04/19
Hovertravel has published its 2019 Travel & Attractions guide. Produced as a pocket-sized brochure, this guide contains all the information a visitor using Hovertravel might need.
Loretta Lale, head of commercial at Hovertravel, says: "We regularly consult with our passengers about the type of information they need, and customers tell us that a single pocket-sized guide is what they like. Our 2019 Travel & Attractions brochure includes details of our fares, our combination deals with attractions and other transport plus information about our HoverCare facilities and an easy to use map for reference."
Additionally, there are some top tips to help customers get the most from their Hovertravel experience, details of forthcoming events across the Solent region and information about Hovertravel's excursion programme to Lee on Solent. The guide covers attractions and offers for passengers travelling both to and from the Isle of Wight, promoting the best of the Island and Portsmouth.
The 2019 brochure is available now from both terminals and will be distributed nationally via Hovertravel's network of commercial partners.
Hovertravel staff help clean Ryde Beach - 10/04/19
Hovertravel staff started their beach clean initiative this week, with a team of seven staff working their way along the shore from the Ryde Hoverport to Ryde Beach.
Julie Horrocks, head of ground operations at Hovertravel, explains: "Following discussions with our teams and having identified a strong commitment to be more involved in keeping the local environment free of waste, including plastic, Hovertravel will be conducting a series of beach cleans throughout the summer."
Equipped with litter pickers, eco-plastic waste bags and safety gloves, the beach cleaners spread out to search along the shore line for litter. A wide variety of waste was collected including the usual cans, water bottles, crisp packets and a large amount of unidentifiable plastic shards. The team also found frisbees, tennis balls and several lengths of wire and cabling.
Julie adds: "Keeping the seashore clean and collecting rubbish is one way in which Hovertravel can help the local community. Many of the items we found could easily cause injury to people at the beach or damage to boats on the water. We also recognise that with the popularity of the sandy beaches next door to us, we will need to make this a regular activity and we are actively exploring ways to reduce our own waste too."
Hovertravel welcomes Rescue Ronnie for Go Orange day - 05/04/19
Hovertravel welcomed Ryde Inshore Rescue's mascot Rescue Ronnie to their Ryde terminal today. Go Orange Day is a national event held locally for independent lifeboat units which do not operate under the RNLI. This event is designed to raise the profile of the independent lifeboats country wide while raising vital funds for this much needed local unit.
Everyone at Hovertravel from cashiers to crew and from pilots to product development supported the day to raise awareness of the Independent Lifeboats and the work they do.
Throughout the UK there are around sixty lifeboat units that are not run by the RNLI and every year their volunteer crews respond to pager callouts in an identical way to the RNLI crews. Training is to the same high standard and all rescue craft must adhere to the same strict code as the RNLI. The Independent Units' hope is that by all celebrating on the same day, they can highlight the number and contribution of non-RNLI units around the country.
Loretta Lale, Head of Commercial at Hovertravel says: "Hovertravel is a long-time supporter of Ryde Inshore Rescue and we have participated in Go Orange Day for many years. By having Rescue Ronnie in our terminal, we are helping to spread awareness of this essential service amongst our younger customers."
Free and discounted travel for veterans to D-Day 75th Anniversary - 04/04/19
Hovertravel is giving 75 free tickets to Isle of Wight Veterans so they can travel to the DDAY75 events in Southsea between 5th – 9th June and offering a massive 75% discount for all veterans when travelling during the same period from either Ryde or Portsmouth.
In June, Portsmouth will be the focal point for reflection on the events of 1944. Veterans, military personnel and civilians will commemorate those lost and celebrate the achievements of the operation that sailed from Portsmouth 75 years ago. The events will create a momentous occasion to celebrate peace, liberty and reconciliation and they will be focussed on Southsea Common.
Neil Chapman, managing director of Hovertravel, explains: "Hovertravel has always supported the serving and retired Armed Forces and for this very special anniversary we wanted to say a huge thank you to those veterans who wish to experience the commemorative events in Southsea and on the Isle of Wight. Being the closest ferry port to Southsea Common and by far the quickest way to cross the Solent makes Hovertravel the most convenient choice for Island veterans."
Hovertravel will be allocating the free 75 tickets on a first-come first-served basis and Island veterans can apply in the following ways:
• email: info@hovertravel.com entering DD75 free Tickets' in the subject header
• Joint request from a Veterans association – on behalf of members
• Message Hovertravel on Facebook or Twitter @hovertravelltd
• Call 01983 717700 requesting tickets.
Please note: All ID must be confirmed at the booking process and presented at the Boarding Gate when travelling.
Hovertravel operates services from every thirty minutes early morning to late evening with an average crossing time of less than ten minutes. Booking and full details of the DDAY75 discount are available here
Try before you fly for World Autism Day - 26/03/19
As part of World Autism Awareness Week and for World Autism Awareness Day itself, Hovertravel is holding a special open day on Tuesday 2nd April when visitors will be able to meet the staff, crew and pilots of Hovertravel, whilst being hosted by the HoverCare team.
Recent specific additions to the HoverCare facilities have been the introduction of a safe haven in both terminals and the opportunity to borrow ear defenders during the Hovertravel experience.
This 'try before you fly' approach has been designed to help customers get the best insight for any future visits and Hovertravel is encouraging visitors to bring their friends and family along too, to try out the hovercraft and learn about the HoverCare services.
Loretta Lale, Head of Commercial at Hovertravel, adds: "We recognise that we are still evolving our HoverCare services and events such as this give us the chance to better understand the needs of those on the autistic spectrum whilst giving our visitors a behind the scenes tour of our hovercraft, with the opportunity to ask whatever questions they wish. Our Try Before You Fly events are open to anyone whom might want to chat to us about accessibility. "
As well as discovering how simple it is to use the hovercraft for travel between Portsmouth and the Isle of Wight, all visitors will be given a free ticket for two people and be issued with a HoverCare card.
The hovercraft will be open for all visitors interested in learning more about our accessibility at Southsea 1100-1230 and as space is limited, please register each person attending here:
Hovertravel expands User Group with Twitter - 12/03/19
Hovertravel's successful user group (HUG) is evolving from a small panel of customers meeting three times per year to an hourly discussion on Twitter held every month and open to all Hovertravel users.
"The HUG started in 2010 and has been very effective in giving us the opportunity to listen and learn from our customers," explains Julie Horrocks, Hovertravel's Head of Operations, "The success of the user group has attracted requests from a wide variety of different customers and stakeholders who want to provide their input so we are creating a HUGhour on Twitter to increase participation."
The HUGhour meetings will be conducted on a dedicated HUG Twitter account (@hovertravelHUG) and aim to be a forum for Hovertravel to receive recommendations for improvements to products and services suggested by users and in turn provide users with regular updates on Hovertravel's performance.
The dates for the HUG Twitter meetings are:
• 27th March 1pm
• 24th April 1pm
• 29th May 1pm
Julie continues: "If you use Hovertravel and you want to be involved in a constructive dialogue to help make our service better for all customers, we welcome your input."
For more details about the HUG meetings on Twitter please click here
Hovertravel welcomes Shaping Portsmouth Ambassadors - 18/03/19
Last Sunday Hovertravel showed its gratitude to the volunteers who make up the Shaping Portsmouth Ambassadors programme with an extra-special hovercraft experience.
Neil Chapman, managing director of Hovertravel, explained: "The Ambassadors at Shaping Portsmouth give their time for free to engage with the local community and businesses, to drive passion for the city. Their energy and enthusiasm are making a real difference across the city and beyond. Hovertravel wanted to say thank you by inviting them onboard a private charter for some fun on the Solent."
Starting with an inshore fly-by of Fort Monckton and Fort Gilkicker, the guests were treated to demonstration of the extreme manoeuvrability of the hovercraft with 360 degree spins and then sped on at over 40 knots to fly round No Man's Fort and Spitbank Fort before returning to Southsea. With the pilots providing an expert commentary during the flight and hosting an informal question and answer session after landing at Southsea, the visitors were given an in-depth insight to Hovertravel's operation and had the chance to take a selfie with the world's only year-round commercial hovercraft service.
Shaping Portsmouth Ambassadors are volunteers who live, study or work in the city and want to do something to help their local community and wider City. Ambassadors are invited to regular meetings at a variety of interesting places around the city for an update on the Ambassador project and be kept informed of new developments in the city. If you would like to become a Portsmouth Ambassador, you can find details here.
Hovertravel can organise private charters for groups, associations, clubs or parties. If you would like to find out more about the Hovercraft experience please visit the website here.
Hovertravel gets onboard with National Apprenticeship Week - 07/03/19
This week Hovertravel joined in the celebration of apprentices with a variety of activities for National Apprenticeship Week (NAW 2019). National Apprenticeship Week is coordinated by the National Apprenticeship Service and is designed to celebrate apprenticeships and the positive impact they have on individuals, businesses and the wider economy.
Hovertravel attended the apprenticeship open day at Havant & South Downs College, taking a team which included one of their current apprentices, a duty manager and the head of operations. This team was able to explain how the apprentice scheme works and the students were able to ask questions of current apprentice.
Shaping Portsmouth is showcasing some of the amazing apprentices in the Portsmouth area with a series of video interviews, designed to reveal exactly what goes on in the daily life of an apprentice. Hovertravel Apprentice Handling Agent Jess was invited to be part of the series and her video will be available here.
93% of those who complete the apprenticeship programme are now place in full time employment with Hovertravel. The company continues to see the value of this program, not only from a reduction in recruitment costs, but in the passion so many of these individuals have brought to our business as well as allowing us the extra manpower to offer additional services to our customers to improve the customer experience.
Hovertravel's apprentices have had several notable successes including running a program of newly introduced excursion trips to the Hovercraft Museum, celebrating the very British invention of the Hovercraft but also creating a business case for a product that continues to grow today. The apprentices have also been deeply involved in initiatives such as HoverCare which is helping to make cross-Solent travel easier for all customers.
Hovertravel is a unique business which offers development opportunities for its apprentices that benefit the company and, just as importantly, provide excellent experience to advance the individuals' future career aspirations, either at Hovertravel or elsewhere.
Try before you fly' for Disabled Access Day
Hovertravel is supporting Disabled Access Day 2019 by opening their doors to offer a unique opportunity. On Saturday 16 March 2019 visitors will be able to meet the staff, crew and pilots of Hovertravel, whilst being hosted by their HoverCare Ambassadors.
This 'try before you fly' approach has been designed to help customers get the best insight for any future visits and Hovertravel is encouraging visitors to bring their friends and family along too, to try out the hovercraft access and learn about their HoverCare services.
Loretta Lale, Head of Commercial at Hovertravel, adds: "The hovercraft will be open for visitors at both Ryde on the Isle of Wight & Southsea in Portsmouth. It is also a great opportunity to share your experiences with our staff so we can further enhance our services, ensuring we are helping all to travel more easily."
The hovercraft will be open for visitors as follows; at Ryde from 1000 to 1130 and at Southsea 1200-1330.
As well as discovering how simple it is to use the hovercraft for travel between Portsmouth and the Isle of Wight, all visitors will be given a free ticket for two people and be issued with a HoverCare card.
£200 raised at Hovertravel for Dementia UK's Time for a Cuppa - 28/02/19
Hovertravel welcomed visitors to their Time for a Cuppa Pop-up Café at their Ryde Terminal to raise awareness and funds as part of the tenth anniversary of this worthy initiative. They raised a fantastic £200 for more families across the Isle of Wight to access the unique and specialist help of an Admiral Nurse.
Loretta Lale, Head of Commercial at Hovertravel, says: "We must thank Tesco Extra, French Franks and Grace's Bakery who donated very popular cakes and to 1st Brading Scouts for helping make this event possible.
We also say huge congratulations to Dementia UK for reaching its 10th year of Time for a Cuppa. To be able to bake until we dropped for such a fantastic cause was amazing and we hope that the money raised will help more families access the lifeline that Admiral Nurses bring."
Admiral Nurses provide the specialist dementia support that families need. When things get challenging or difficult, they work alongside families affected by dementia, giving them one-to-one support, expert guidance and practical solutions, helping families face dementia with more confidence and less fear.
Dementia UK is on target to have 300 Admiral Nurses by 2020 working out in the community as well as in care homes, hospitals, hospices and on the Admiral Nurse Dementia Helpline.
New Daisy Bus unveiled - 22/02/19
To celebrate the arrival of their new vehicle and the success of the appeal, the charity hosted a thank-you event for all supporters, including Hovertravel, at the charity's support centre in Lugley Street, Newport.
Grant funding has enabled Wessex Cancer Trust to buy a new Daisy Bus – which has funding secured into 2020 – thanks to incredible fundraising efforts of individuals, groups and businesses on the Island.
Barry Ronaldi, from the Wessex Cancer Trust, said: "For us as a charity, we are so proud to be helping residents of the Island. It means patients now don't have to worry if the bus will arrive. We must say a big thanks to everyone who has supported – especially the Isle of Wight Freemasons, Hovertravel and the Lions Club. We are very grateful for all of the support receive – it is vital."
The Island's Freemasons and the IW Prostate Cancer Support Group raised thousands towards the appeal, alongside Hovertravel, which has donated 10% of its ticket fares from patients travelling across the water.
Neil Chapman, Managing Director of Hovertravel, said: "We are proud to be supporting such a vital link for Island cancer patients. We are always looking to make travelling across the Solent as easy as possible."
Wessex Cancer Trust's CEO, Cait Allen, said: "Being able to purchase a new minibus will help reduce our ongoing costs significantly while also providing a more comfortable experience for patients travelling to the mainland for treatment. We have much to celebrate and we'd love everyone that has supported the appeal to join us next Wednesday so we can say thank you in person."
To maintain the future of the service for years to come, the charity is planning to host a dedicated Daisy Day annually.
Add a hovercraft to your wedding - 14/02/19
You can have the world's only scheduled passenger hovercraft service as part of your wedding. Hovertravel has a range of options from group discounts on its timetabled operation to a full private charter.
"Using a hovercraft as part of your big day is a great way to add something unique to your wedding," says Loretta Lale, Head of Commercial at Hovertravel, "our hovercraft are so different and everyone loves the thrill of travelling across the water on a cushion of air."
Hovertravel speeds across the water at up to 45 knots and glides effortlessly on to land, creating an unforgettable experience for up to 78 passengers per craft. With the short ten-minute crossing time from Southsea to Ryde you could even consider getting married in Portsmouth and having a reception on the Isle of Wight! Or choose the hovercraft to start your honeymoon on the Island.
For an added touch of exclusivity, you can book your own private charter which can depart and arrive at our existing hover ports in Southsea and Ryde, as well as other locations on request including Lee on Solent and selected Isle of Wight beaches. Imagine having complete use of a hovercraft just for your guests and landing on a sandy beach! Or maybe arrange to have your speeches delivered floating in the middle of the Solent.
Loretta adds: "When you charter our hovercraft, you get a full complement of crew and a pilot. We can help you design your own itinerary, which can include the opportunity to hover around the Solent for sightseeing as well as whisking your wedding guests to your reception."
Please email info@hovertravel.com to discuss your requirements.
Hovertravel pedals for Isle of Wight Admiral Nurses - 18/01/19
Hovertravel committed to 15 hours of pedalling as their latest fund-raising initiative for Dementia UK Isle of Wight Admiral Nurses. Starting at 0615 in the morning and running continuously during Hovertravel's hours of operation until 2115, pilots, engineers, crew members, cashiers, duty managers, alongside members of the finance, HR and commercial departments all cycled for charity.
During the morning Mr Alf Holman, 95, of the Briars Care Home in Sandown jumped on the bike and showed everyone how it was done!
Loretta Lale, Head of Commercial at Hovertravel, explains," We want to be fully involved with our chosen charity for 2019 and all the team love to participate in this type of fund-raising activity. By holding a continuous cyclethon in our terminal we are spreading the message about Admiral Nurses to our customers and putting our commitment on show."
Hovertravel is raising these funds to support the provision of Admiral Nurses on the Isle of Wight and raise awareness of these specialist professionals who provide support, expert guidance and practical solutions.
By placing the charity's branding in key marketing locations such as terminal screens, craft screens and as advertising banners in customer emails, Hovertravel will promote this worthy cause to their passengers, who have always proved to be generous in their support for local charities.