Wessex Cancer Trust - Daisy Bus
The Wessex Cancer Trust provide a free bus transfer to and from Hovertravel's Southsea terminal to Queen Alexander Hospital. 
You don't need to book a space on this bus just show up with your appointment card.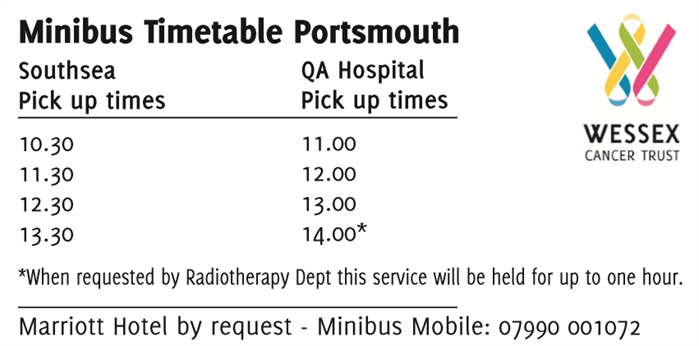 Charter for safe travel with Hovertravel, in collaboration with Wessex Cancer Trust
As more people require safe travel between the Isle of Wight and Portsmouth, Hovertravel and Wessex Cancer Trust want to ensure your journey as a cancer patient is as stress-free as possible.
We will do this by:
Giving Wessex Cancer Trust clients priority boarding, seated with appropriate space from other passengers*
Ensuring toilet and hand washing facilities are available in both terminals
Monitoring and limiting the number of people in the terminal at any one time
Limiting the number of passengers on the craft and on WCT daisy buses on any journey to allow additional space between passengers
Allowing those people from the same household to sit together
Ensuring all staff have been provided with a strict protocol to follow regarding managing current risks, including the appropriate cleaning of the craft.
Directing you to the WCT daisy bus where necessary for transport to the QA Hospital *identified by wearing a WCT lanyard available on WCT website www.wessexcancertrust.org.uk
We are asking all passengers to:
Stay at home if you have coronavirus symptoms or are living with someone who has
Comply with social distancing guidelines
Let staff know if you have any concerns – wearing your lanyard will help staff know you're taking extra precautions
Pre-book your ticket online wherever possible
Wear face masks on both forms of public transport in line with government guidance
Get in touch with Wessex Cancer Trust if we can offer addition support