Booking HoverCare Assistance
HoverCare customers can benefit from priority assistance, to ensure you receive this we advise customers to contact us at least 48 hours in advance of your travel;
Alternatively please e-mail or phone our customer care team who will happily assist. 
To ensure we can provide the best possible assistance and care for your journey. please arrive at our terminal at least 15 minutes before you intended departure time and make yourself known to our staff. 


Terminal Facilities
Wheelchair Accessible terminal
Ramp for boarding & disembarking of the Hovercraft
Accessible counters
Priority boarding upon request & for Wessex Cancer Trust patients
Hearing Loops in both terminals
Accessible Toilets in both terminals
Helpful staff - Please just ask
Safe haven/quiet zone waiting area
HoverCare seating in terminals & on board the Hovercraft
Noise reductions aids - ear defenders & ear plug
HoverCare Card - show for assistance & discounts
All Hovertravel staff participate in mandatory Hovercare training
HoverCare Card
Our HoverCare card is available for use so customers can receive any extra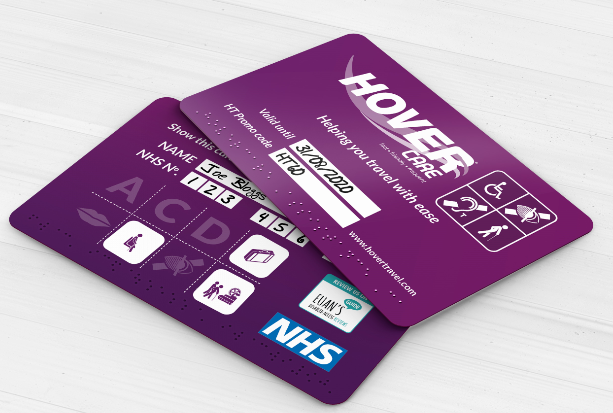 assistance they may need without even having to ask. It lets our staff know about any special requirements customer may have with their journey.

Customers may request a HoverCare card which will indicate whether they require help with luggage, are a lip reader, whether they need to be seated, or would like help boarding the hovercraft. The HoverCare card can also, if the customer wishes, show that the holder has reduced mobility, autism, dementia, reduced vision or impaired hearing.


To Apply:
Simply come into our terminal with your NHS number/Letter/Id and we'll set up your card.
Our HoverCare Partners