Message from Neil Chapman, Managing Director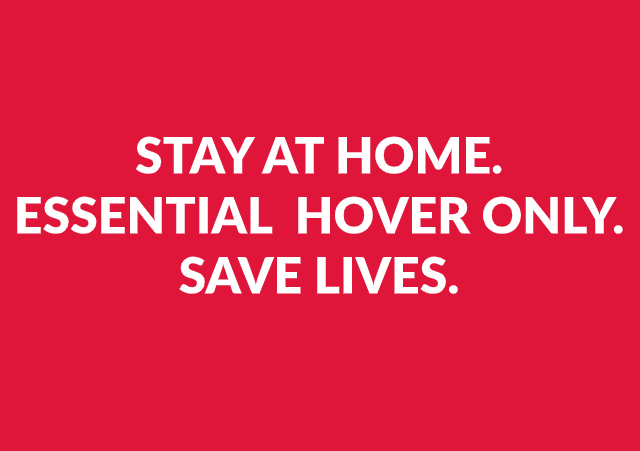 To the Hovertravel community,
Due to COVID-19 we are all facing unprecedented challenges and all of us at Hovertravel are asking you to avoid non-essential travel. By working together we can help slow the spread of the disease and so I implore you to question whether you need to travel with us.
Hovertravel's reputation has been built on customer-focused values and it is those same values which mean we have to ask you to stay at home and only travel with Hovertravel if your journey is absolutely necessary.  Our Essential Lifeline Timetable is for key workers and vital supplies only.
Hovertravel is fully committed to being a critical connection between the Isle of Wight and the mainland. Our fast ten minute journey time and ability to add in extra services in half an hour give us the opportunity to provide assistance when it is needed most. Our 24/7 Critical On-demand service is already supporting the medical professionals on the island.
You may have seen that through the efforts of our local MP, Bob Seely, and the Isle of Wight Transport Infrastructure Board, we can co-operate and co-ordinate with the other Isle of Wight ferry operators. By focussing our joint resources strategically, we will, together, maintain a robust and reliable set of transport links required to keep the Island functioning.
We will not see many of you over the coming weeks but we are still here, helping to support your community. Our digital and social channels are very much open and, alongside our own online activities, we invite you to connect with us virtually – we would love to hear from you!
And finally please remember, for all our sakes, essential Hover only!
Stay home and stay well.
Neil Chapman
Message from Neil Chapman - 23/03/20
Hello,
For over 50 years Hovertravel has been proud to serve the Isle of Wight & Portsmouth communities and we are often described as a 'family team with a corporate approach'. At times like these, we all need to work together for the good of us all.
Hovertravel has adapted its operation over the last few weeks to help protect you and our staff, with enhanced hygiene precautions both in the terminals and on board our hovercraft. At the same time, we have introduced temporary terms and conditions to help you change your travel plans or put them on hold.
Our responsibility to the communities we serve is to maintain a robustly resilient and reliable transport lifeline, transporting essential travellers and critical supplies.  To do this we need to protect our workforce as diligently as we protect our customers and we need to manage our resources appropriately.
Today we have announced a new hourly timetable, starting tomorrow (24/03/20), which will allow us to keep key workers and essential freight flowing to where they are needed most. If your booking is affected by this new timetable please visit the Hover Flexibility page on our website where you can transfer bookings to a different service, extend travel periods or put a booking on hold for the future.
Even though our journey is just ten minutes, our staff are helping the essential travellers flying with us follow the social distancing rules in our terminals and remaining two metres apart. We thank our customers for working with us on this highly important procedure.
Thanks to the volunteers from our staff, we have been able to offer a 24/7 critical on-demand hovercraft service to stakeholders who need to transport key workers or critical supplies, demonstrating that we will do whatever it takes to keep our lifeline open.
Alongside my team, you have my commitment we will continue to do our utmost to support you. If though you feel we could do more, have a concern or even a request for assistance please do not hesitate to contact myself or a member of the team.
We are here for you as much as you have always been here for Hovertravel. Thank you and please stay safe.